Touareg: Nomadic folk who roam the Sahara Desert with their herds; also, a tasty SUV that's at home on the sand or in Auckland's big wet.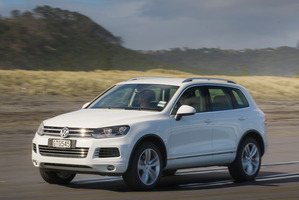 The flash flood had blocked the drains in the dip of a busy Auckland road and the result was a 1m-wide water-free gap in the middle of the lanes. Cars were gingerly maneuvering into the dryish patch.
Except for me. Knowing the road well,
I slowly headed straight ahead in my lane - easily driving through the big puddle. As water sprayed up, my teenage daughter Grace expressed her delight.
"Yeah, I did it because I can," I told her, patting the steering wheel of my 'aqua-car' - Volkswagen's mid-size Touareg SUV.
And, just because I could, I took the Touareg for an outing to the black sands of Muriwai Beach to prove its off-road ability - as you can see in the photos.
As locals and kite surfers motored along the beach in their beat-up SUVs, my European off-roader tentatively hit the sand, only because
I didn't want to make 'that' call to VW. I mean the call that a former colleague made to another car company a few years ago: "Hi, your very expensive four-wheel-drive is stuck in the sand, and the tide is coming in.
Best you get a tow truck there pronto."
As I said, he's a former colleague because car companies really don't like their test cars stuck in sand, waterlogged or floating off the Kapiti Coast, as in his case.
But after one test circuit - along the softer high-tide mark then down to the hard sand of the low-tide area - I let the Touareg handle the conditions in off-road mode and enjoyed the beauty of the coastline on a sunny afternoon.
After fun in the sand I headed off the beach, past a group of horse riders caring for their mounts - with an assortment of towing vehicles nearby. Floats attached to large SUVs, or to horse trucks - all for a day riding in the nearby forest.
For a moment I pictured myself with a single horsefloat attached to the Touareg with my steed inside. Then I had a flashback to my childhood nag, Tessa, and remembered all the times she (a) bucked me off, (b) galloped towards a low branch of a tree to successfully knock me off, (c) steadfastly refused to move, and (d) hid in the far paddock, deaf to my call.
Volkswagen New Zealand's popular Touareg has been far more reliable transport. Launched in 2002, the Touareg was named after the Berber-speaking people of North Africa: sheep, goat and cattle herders who roam the Sahara on their camels. Which is pretty much off-roading, come to think of it.
The second generation landed here in 2010 with VW NZ now introducing a revamped version, with a price reduction on the three models thanks to the strong Kiwi dollar.
My test version - the base model V6 TDI (with 150kW of power and 400 Nm of torque) - was priced at $89,750, down from $93,250, but included $13,750 of extra specifications, including sat nav, rear-view camera, leather power seats, 18in alloys, and a chrome style package.
The 180kW (550Nm) TDI V6 sits in the VW dealership at $108,000 with $16,000 worth of extras while the big beast of the family, the V8 TDI 250kW (800kW), retails for $139,500 with $5500 of extras including an area-view camera system that takes in 360-degree views.
The new Touareg has extensive safety features including anti-lock braking system (ABS plus) with brake assist, anti-slip regulation (ASR) traction control and electronic stabilisation program (ESP) and seven airbags, which include a new driver's knee airbag.
The two V6 models have VW's BlueMotion technologies, including the start-stop system that automatically shuts off the engine when the car is stationary and a regenerative braking system that recycles braking energy.
I have a love-hate relationship with the start-stop technology that's now found in an ever-increasing number of car brands. Sure, it provides fuel economy - that has convinced me - but when you're sitting in rush-hour traffic and wait a nano-second to take off when the traffic lights turn green you'll get the toots from impatient Auckland drivers.
I also found that my diesel engine was hesitant to take off due to the weight added to the lower torque I even had to check that it was in drive mode when leaving home in the morning as my foot was on the accelerator but the engine took a moment to kick in.
That factor saw me miss a gap in traffic when trying to move from a give way sign at a side street and onto a main road but I did have the late-out-of-bed aforementioned daughter in the car for the school run.
And if there is one thing I dread more than being bucked off a horse, it's making that call to the school secretary about why my daughter is late again.