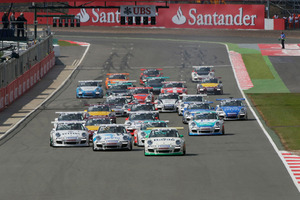 Professional motor racing driver Richie Stanaway has parked up the Aston Martin he drove last weekend in the six-hour endurance race at the Spa-Francorchamps circuit in Belgium and swapped it for a Porsche.
The Kiwi is racing in the first round of the Porsche Mobil 1 Supercup at the Formula One Spanish Grand Prix on the Circuit de Catalunya this week. Stanaway's management team Gravity Sport, and in particular Lotus F1 principal Eric Boullier, confirmed back in February their young charge would contest the F1 support category with the French DAMS team.
The former German Formula 3 and ADAC Formel Masters champion was set to make his Porsche debut in the Australian Carrera Cup championship at the Melbourne Grand Prix but a paperwork glitch caused him to miss the drive.
"There's been a pretty big change in my strategy for the next couple of years," said Stanaway.
"My management still believe in my ability as a driver and rather than re-invest in me racing World Series by Renault or GP2 - the level I was before my injury - I'll be doing Porsche Supercup as well as the World Endurance Championship."
Stanaway was at pains to say this change of direction in no way means the end of his ultimate goal of getting into Formula One - just a different route.
"You just have to look at Paul di Resta and how he got into F1. He was quite frustrated being taken out of Formula Three and put into DTM by Mercedes but went on to win the championship in 2010.
"On the back of those results he was then drafted into F1 and considering I'm still under management by Lotus F1 there's no reason to think I couldn't make it either."
Driven spoke to Stanaway just after a shakedown test in the car he'll be racing in anger this weekend. He hasn't been able to test the car in the past few weeks and is a little apprehensive about how it's all going to pan out.
Leaping into a different car and setting fast lap times has never been a barrier in the past for the 21-year-old, and although he hasn't raced at Catalunya before, he's done a lot of testing there in various machinery so knows which way the track goes.
"At the shakedown we had a set of wets on and were just circulating to make sure all the running gear was working properly," he said.
"I certainly wasn't driving it properly or anywhere near race pace. It's been quite a long time since my original test days so I'm looking forward to the weekend.
"The Porsche is quite different to the Aston Martin and I'm keen to see how it goes this weekend. The Spa weekend was a big help as I was in the car for two hours and got good practice in another GT car, although they are different.
"The Aston is in a higher class and has a lot of down force and a lot more power. Any experience I get is going to help me."
Some of the drivers in the Porsche Supercup have had many years' experience in the category, whereas Stanaway has yet to compete in one.
Obviously he's going to have his work cut out, but Stanaway likes a challenge, especially since the majority of his experience is in quite different machinery.
"I've never struggled when jumping into different Formula cars [GP3, F3, WSR] but it is quite a drastic change moving to a GT car. I would have liked a bit more experience but anyway we'll just have to get on with it and get as many points as we can."