Strong dollar helps boost sales and gives drivers more choice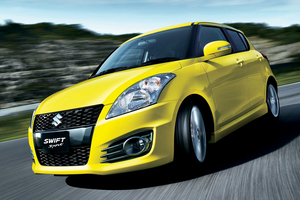 Arrivals of used imported cars reached their highest level in nearly five years in April, spurred on by steadily improving availability of product and the continued strength of the New Zealand dollar.
The performance of the used imported vehicle sector backed up the strong results achieved in the new car and commercial vehicle market in April, said the Motor Trade Association (MTA).
New commercial vehicle registrations had the biggest April since 1982, with 2235 sold. The number of new commercial vehicles sold was 38 per cent higher than April 2012. New passenger car sales, of 5908 vehicles, were also up 8.8 per cent on April 2012.
In April, 10,539 used cars entered New Zealand - the highest number since January 2008. The surge in arrivals flowed through to actual sales with 7418 used cars sold during the month, representing a 26 per cent increase over the same month last year. For the year to date, used imported car arrivals are 51 per cent ahead, while actual sales are ahead by 4637 (19 per cent).
"The additional stock will replenish car yards, bringing more choice to consumers. There are a lot of vehicles looking for a buyer," MTA spokesman Ian Stronach says.
Leading the way in terms of individual used models was the Suzuki Swift (351 units) followed by the Mazda Axela (327 units) and the Mazda Demio (304 units).
Used imported commercials also enjoyed a strong month in April. The 401 vehicles landed was 145 units (57 per cent) ahead of April 2012. Again, the strength in arrivals was matched in terms of sales, with 433 units sold for the month, up 88 per cent compared to last April.
For the year to date, used imported commercial arrivals are up a healthy 73 per cent with sales ahead by 609 units (56 per cent). The standout vehicle type in the used commercial market again proved to be the workhorse of the trades, the petrol-powered van.
"The strong showing in April is not that surprising given the changes in the strength of our currency versus the yen - up 30 per cent since December," Stronach says. "Factor in a larger number of vehicles that meet our emissions requirements and you have an attractive mix for buyers."
On-road motorcycle sales rounded out a positive market, up 23 per cent over April 2012. Year to date, on-road motorcycle sales are up 15 per cent, driven largely by the growth (32 per cent) in the scooter, or sub-60cc class. Suzuki led the market with sales of 94 units (19 per cent market share) followed by Honda on 60 (12 per cent share) and Yamaha with 38 sales (8 per cent).