Aussie auction draws buyers from around the world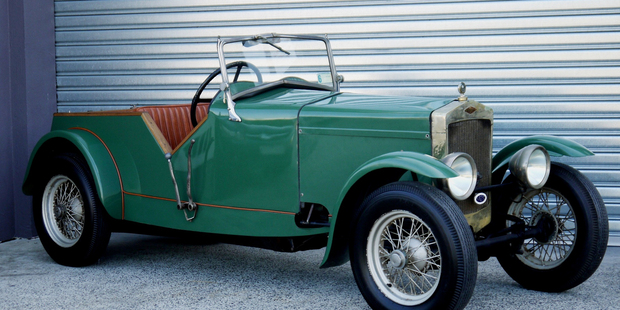 Enthusiasts from Europe and New Zealand battled with Australian floor and phone bidders for important vintage sporting cars and parts from the collection of Victorian Sporting Car Club identity and competitor Ted Hider-Smith at Shannons Melbourne Autumn Classic Auction on Monday.
About half the collection, consisting of eight vehicles and two memorabilia/project lots, went to overseas buyers, selling either above or on estimate and contributing significantly to the auction's A$1.3 million ($1.6 million) result.
Shannons national auction manager Christophe Boribon, who at one stage stopped the auction to remind the large floor crowd and many overseas phone bidders of the world significance of some of the Hider-Smith lots, described the result as "fitting".
"These were significant vehicles from an important motoring era that knows no national boundaries," said Boribon.
"The result proves that there is strong worldwide interest in these early vehicles today, many of which are being collected and used, including in competition."
The two highlight vehicles in the collection were a chain-driven Anzani-engined Frazer Nash that took part in the first Australian Grand Prix meeting at Phillip Island in 1928 and a circa 1930 Riley 9 "Brooklands" Sports (one of just 100 produced from 1928-1932). They were also the top sellers at A$92,000 and A$90,000 respectively.
Hider-Smith's 1937 Morgan 4/4 "Flatnose" Roadster made A$28,000 and his "as new" 1984 TriKing "Morgan replica" 3-Wheeler sold for A$23,500.
The G.N. Morris-engined hillclimb special that Hider-Smith built and campaigned regularly in Victorian events sold to a fellow VSCC member for A$30,500.
The new Melbourne owner intends to continue the development of the famous vehicle and compete with it in future local events.
A G.N. V-Twin "special" rolling chassis in "project" condition brought A$40,000 and a lot consisting of miscellaneous parts to predominantly suit G.N. cars sold for A$28,500.
A rare 1921 French T.H. Schneider 4.5-litre six-cylinder Tourer, still usable but in need of cosmetic attention, fetched A$79,500.
Meanwhile, a quartet of Mustangs ranging from a right-hand drive 1967 "A Code" Coupe to a right-hand drive 1965 "GT350 close" Fastback sold in the A$29,000-A$43,000 range and a local 1974 Ford Falcon XB GT Automatic Coupe in good condition trumped them all to make A$47,500.
Two sporting VL Commodores - a very rare 1987 "Brock" HDT Director sedan and a very original early 1988 HSV Group A SS Walkinshaw sedan - attracted considerable interest before selling for A$77,000 and A$58,000 respectively. A left-hand drive 1963 Lancia Flaminia GTL-3C Coupe in very good condition sold with no reserve for A$41,000, a very tidy 1948 MG TC went for A$28,000, a 1994 model TD 2000 Roadster that was believed to have covered just 5700km from new brought A$27,000 and a 1972 Volkswagen Manx Buggy sold for A$22,000.
The top selling lot of the 15 Victorian special interest and heritage number plates on offer was the original black and white plate "311", which sold for A$60,000.