Caution's our handiest tool on winter roads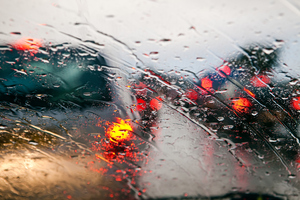 The smart driver puts their money on demisting or de-icing before they drive, rather than once they're on the road.
Gone is what seems like New Zealand's longest summer ever and, instead, we're now facing changeable autumn weather and winter conditions aren't too far away.
With the changes in weather, come changes in our driving: roads may be affected by oil leaked in summer now floating on the surface, piles of slippery wet leaves on the roads, and blocked drains that cause large puddles across lanes.
After recently witnessing a large ute aquaplaning after a downpour and skidding across two lanes of Auckland's Northwestern Motorway, I thought it timely to review driving in wet conditions.
The Motor Trade Association has helpful tips:
* Winter often reduces visibility, so allow additional time for each trip. Make sure you can see out of every window and mirror. Use a proper windscreen scraper or de-icer to remove ice. Don't use warm water; it may cause your windscreen to crack.
* Your air-conditioning system is your friend. Many people associate it only with staying cool in summer, but it's equally vital for ensuring good visibility in colder months. Get your system checked, and allow it time to work properly.
The NZ Transport Agency urges you to drive to the conditions:
* Wet, frosty or icy roads can be very slippery. You need to increase your following distance because it takes longer to stop on a slippery surface. You should add four seconds to your following distance.
* Visibility can be seriously reduced by rain, snow or fog so keep all windows and mirrors clean. Don't let windows fog up - turn on the demister or open a window.
* Unless your vehicle has ABS brakes, don't brake too hard in the wet. You may go into a dangerous skid. Pump brakes gently instead.
* If your vehicle has ABS brakes, never pump them in an emergency. Keep the pedal pressed down hard and steer out of trouble. Don't be over-confident just because your vehicle has ABS brakes.
* On a wet road, driving at the speed limit could be too fast for the conditions. You can lose control very easily in the wet, especially if you must brake suddenly, so slow down.
* If you drive with your lamps on full beam in fog, the light will just reflect back on you. Dip your lights - it will be much easier to see.
* Don't turn just your park lights on. They are hard for oncoming drivers to see and do little to improve your vision. Use front fog lights when it is foggy. These have a wide, low beam and produce either a white or yellow light.
* Rear fog lights, which produce a high-intensity red light, should only be used when visibility is very bad. In normal conditions they can dazzle following drivers. Fog lights should be switched off as conditions improve.
* Look out for vulnerable road users such as cyclists and runners - they may be especially hard to see along dimly lit roads.
Aquaplaning
In heavy or persistent rain, pools can form across roads.
Aquaplaning occurs because the tyres cannot clear the road of water and a "wedge"of water forms between the tyre and the road, losing any traction between the two.
As soon as you feel the car begin to aquaplane just take your foot off the accelerator - don't use the brake - and don't panic. Steer the car in the direction you want to go. The aquaplaning will stop within a few seconds.
Once through the water, ease back gently on the accelerator and when you have some clear space, pump your brakes a couple of times.