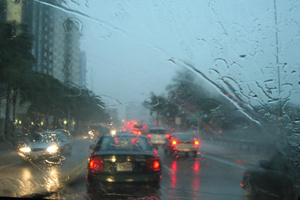 South Island drivers are being warned to take care this weekend as a blast of cold, wet weather looks set to heighten the risk to road users.
The MetService said an advancing front from the Southern Ocean would make for a wet weekend.
While many places would be dry for the start of Saturday, rain and showers would spread to most places by Sunday, with snow to about 400m in Otago and Southland.
WeatherWatch said snow was expected to fairly low levels across Otago, Southland, the Canterbury foothills and Banks Peninsula.
Senior Sergeant Phil Newton of the Canterbury highway patrol said drivers should adapt to the conditions.
"Winter weather dramatically increases the chances of having a crash - especially if drivers have lapses in concentration," he said.
The winter months were traditionally bad on Canterbury roads, with 10 of the 33 road deaths in the region last year taking place between May and August.
"The biggest factor in the winter road toll is motorists failing to drive to the conditions. Our most important message to all drivers is to slow down whenever the weather turns bad.
"Drivers also need to increase their following distance behind other vehicles, to ensure they have a better chance of reacting quickly enough to hazards or difficult situations."
Mr Newton said stopping distances increased in the wet, when visibility could be limited and traction was reduced.
Drivers should also ensure they had an unobstructed view by clearing ice and condensation from windows.
"I have already seen one driver leaning out of his side window while driving in an attempt to get good visibility. The stupidity of some people to place themselves and other road users in danger of having a crash is amazing."
Mr Newton said motorists should give their vehicles a thorough check to see if the tyres had enough tread, the brakes and lights were working correctly and the wipers were in good condition.
Drivers going over passes should also ensure their snow chains were on board.
MetService communications meteorologist Daniel Corbett said the coming week would be unsettled over northern and possibly central New Zealand.
"Over the south of the South Island, once the wet period is over early in the coming week, it should be fine - and cool or cold - for a few days."
- APNZ