When things turn to custard, keep your head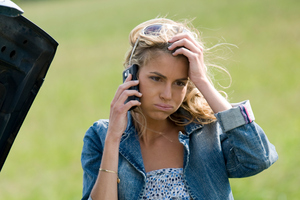 Stopped at the shoulder of Auckland's Northwestern Motorway, the mum stood behind her car frantically talking into her cellphone while her smiling son leaned out the right rear passenger window - as morning rush-hour traffic zoomed past.
There were no emergency lights flashing on the car; her bonnet wasn't raised to indicate a mechanical fault. But it was obvious she hadn't stopped the car so she could chat on her phone.
Unable to cross lanes, I couldn't stop and help. Instead I called *555 to let the police know there was an incident on the motorway.
But the potentially dangerous scene highlighted the need to keep yourself and your passengers safe if your car breaks down while you're driving.
* If you have an issue with your car while on the motorway, indicate. Then drive as far to the left of the emergency lane as possible. Don't suddenly stop your car in a motorway lane. Once on the hard shoulder, position your wheels to face the grass. If your car is accidentally rear-ended it will shunt to the grass, not into a lane.
Activate your hazard lights and if it's dark, turn on your sidelights.
* If you are able to do so, get yourself and any passengers out of the car through the left passenger doors. Pets should be left in the car unless they can be kept securely on a lead to prevent them from running off.
* Lift up your bonnet to indicate your car has broken down.
* Remain as far away from the motorway or road as possible.
* If you are a member of a breakdown service, call them. If you have a smartphone you can download the AA app which uses the GPS function on the phone to find your exact location. Otherwise ring *555 on your cellphone.
* If you don't have a cellphone, most motorways have emergency phones. If it is daytime, consider walking to one. If you feel safer, stay at the phone and ask the breakdown service to pick you up from there.
* If you are on your own when a car stops to help you, get back into your vehicle, lock the doors and speak to the driver through a partially wound-down window. Ask them to phone for help.
* Do not accept offers of a ride from other motorists.
* If it is dark and you break down in an isolated spot, you may have to consider spending the night in your locked car. It is best to plan your travel schedule so you are not driving in remote areas at night.
* Make a judgment depending on time and location whether you consider it safe to leave the car to call for assistance.
* If you decide to leave the car, lock all doors, take your valuables with you and conceal those too bulky to carry.
* If there are warning signs, you may have enough time to reach a busy public place where you can stop.
* If you have a flat tyre, think about driving slowly to a safe place to stop. You may damage the tyre and wheel rim, but this may be more desirable than compromising your safety.
* The nearest phone to where your car breaks down may be at a house. If you decide to approach a private home, stand back from the door once you have knocked. Ask the occupant to call on your behalf and be wary about being invited inside.
* If you see someone with a car apparently broken down, consider whether they need help, particularly a woman alone. If the breakdown appears genuine, you could stop within calling range and speak through a partially open window, offering to telephone for assistance.