Craig Lowndes and Jamie Whincup seem unstoppable in Holdens or Fords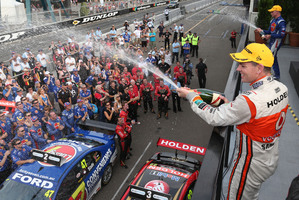 A resurgent Craig Lowndes is in love with the V8 Supercar's new Car Of The Future and feels the new machine reminds him of the days back in the mid-1990s when he was the dominant force in the category.
He arrived on the scene full-time in 1996 and made everyone sit up and take notice by winning the Bathurst 1000, Sandown 500 and the Touring Car Championship that year.
He's been in many teams and driven both Fords and Holdens so his wardrobe must have a hefty collection of gear in it. "I've probably got 12-odd different race suits. I've kept every one of my helmets I've used and since I put the name of my kids on the back of the helmet it's almost like a timeline ... it's great to look back on," he said.
Now, the affable Lowndes is one of the elder statesmen of the series and still has a burning desire to win.
The 38-year-old is racing for Red Bull Racing in a car this season that reminds him of how the older touring cars felt and thinks it suits his driving style more than the recent models.
"It's been a big shift from last year to this year and the car suits me better," said Lowndes. "It's a lot to do with the 18-inch wheels and the lower profile tyres that allow me to carry more corner speed. To be perfectly honest, this new car suits my driving style a lot better than some of the ones in the past."
Lowndes has noticed a lot of changes in technology, safety, car design and all manner of things. One is the knowledge said drivers had to be fit to race these big heavy cars.
Fitness has always been a big part of what Lowndes does and has been an important factor from the very beginning of his racing career.
"I grew up playing a lot of sport, including AFL and cricket, so fitness was always in the back of my mind. When I first started in motorsport, fitness was a bit of an unknown. It was almost a case of, 'Why bother? All we do is sit on our backsides and just drive a racecar'. As time went on, especially in the Holden Racing Team days, we discovered you got a better performance of the drivers who were fitter."
Not only has fitness become a huge part of a driver's ability to win races and championship on the track, there's added pressure to perform off-track as well.
Ten or 15 years ago race teams would have one or two sponsors who could bankroll the whole season, so driver commitments weren't too erroneous.
These days, with the escalating cost of building a car, travel expenses and wages, the number of sponsors for each team has increased 10-fold and every one of them wants attention from the drivers.
Sponsors get global exposure with their brands plastered all over the car and they want to parade the driver around as well.
"It's really cutthroat trying to get sponsors now and they want a fair amount of bang for their buck," said Lowndes. "It impacts a fair amount on your life because work just doesn't suddenly stop after a race weekend.
"Within a day or two you're straight into sponsor appearances, both for car and personal sponsors, if you have them.
"It's a fulltime job just going around fulfilling all your sponsor commitments. You end up doing between 200 and 230 appearances a year."
On top of all the commitments inside and outside the car, what little spare time drivers may have left is again encroached on. This time it's by the media. Exposure in the press, whether print, broadcast or digital, is essential for public awareness of the driver, team and sponsors.
"We all realise it's part of the sport now and young drivers learn that quite quickly. I was lucky HRT put me through a media course that allowed me to understand the media side of things.
"Ten or 15 years ago you'd go to a press conference and there'd only be one or two journalists there. These days there's a huge awareness of V8 Supercars and the press room is pretty full," said Lowndes.
It must almost be a relief for the drivers to get inside their car, close the door and do what they do best - race.

Defending V8 Supercars champion Jamie Whincup is biding his time heading into this weekend. With 12 rounds to go it's early days yet.
"It's all swings and roundabouts this racing game," he said.
"Whoever fires out of the box early are rarely the ones there at the end."
"We saw that with FPR last year who won nine out of the first 12 races. I'm predicting, though, that the guys who are quick now will be quick all year and we've got a bit of work to do."
Last year Whincup won his fourth title and has always understood a season is just that - a season. It's all about consistency and being there to either challenge for the win, or at least finish high up in the points.
"I'm not concerned one bit at the moment, it's just another year of competition. We weren't concerned last year when FPR won the first nine, we just put our heads down and made sure we did the best with what we had.
"Once again it's going to be another crazy full-on year with threats thrown at us from all over the place.
"We just have to keep doing what we have for the past six years."
For the entire category the new cars and new manufacturers are a breath of fresh air. The drivers are excited about being able to race an entirely new beast after plugging away with a model that's been flogged around racetracks in various guises for the past 10 years.
No one has seen the full potential of these new cars yet and it will be a while before the engineers and drivers really get their heads around everything.
When that happens the racing will no doubt step up another notch.
"It's really exciting for us the drivers, and the engineers, to see how we can develop these new cars and start to get the best out of them," Whincup said.
"Everything is fresh this year and everyone is looking forward to the challenge of getting these cars to go faster.
"We're not quite maximising the best out of the cars yet. It's exactly what the category needed and I applaud the organisers for the changes they have made."
The drivers aren't the only ones excited about the new era of V8 Supercars racing. At the opening round in Adelaide the organisers had to shut the gates on Sunday before race two started as the place was full with a record 95,000 fans flocking in to see the new cars.
"We're expecting a similar sort of bumper crowd at Pukekohe when we arrive there. The interest in the new car is brilliant and the racing's been a cracker and really intense, and people like seeing the Nissans and the Mercedes in the field as well.
"I've got to say though, I want to be a bit selfish and see the Red Bull cars get a few more wins."
The last time the V8 Supercars were at Pukekohe was in 2007. The cars of that era were even quite a bit different to last year's model as was the track.
"Let's not kid ourselves, the track was getting pretty worn out back when we raced there in 2007," said Whincup. "There's been a lot of great work done on the place for this weekend and I applaud the Government and Auckland Council for getting behind it. We're all going to get out there and put on a good show for all the Kiwi fans. It was a great move to do all the new work."
Fans will be in for a treat over the weekend as the big bangers from Aussie return to their spiritual home of V8 racing.