Coulthard a worthy overall champion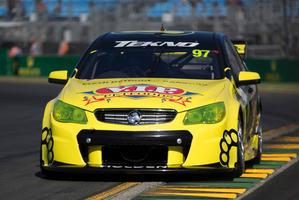 The clean sweep by New Zealand drivers at the Australian Grand Prix round of the V8 Supercars could just be a pointer of what is to come this season.
Although there were no championship points on offer over the four races, all the drivers wanted to be at their best in front of the biggest crowd they'll face all season.
While all three Kiwi drivers - Fabian Coulthard, Scott McLaughlin and Shane van Gisbergen - led the field home at some stage, Coulthard's was the standout performance.
Three wins and a third place was an emphatic statement by the Brad Jones Racing Lockwood driver and he left the Melbourne event as overall champion.
One of Coulthard's wins came as a result of van Gisbergen being stripped of his victory due to a technical infringement with his car. He and seven other drivers including Jamie Whincup, Craig Lowndes, Jonathon Webb and others were found to have their ignition timings incorrectly set.
A win is a win though, and Coulthard was mightily pleased with his weekend's work.
"We've been racy pretty much all year," said Coulthard. "Brighty [teammate Jason Bright] and I were one-two at the Eastern Creek test day and I qualified fourth and fifth at Adelaide, so it should not have come as too much of a surprise.
"To get pole at the Grand Prix was obviously awesome, and we were the only car to get 1min55sec lap all weekend, and to get my first win was just brilliant."
Coulthard has been there and thereabouts for a number of years now and his win is just desserts.
He's now settled into a new team he showed promise with last year, and the results are coming.
"The new COFT has helped level a lot of things out and now that we all have equal machinery I'm in with a much better chance.
"The guys at BJR are like family to me and it's been really, really good and nice to convert the pre-season pace into race wins, round wins and pole positions.
"Not getting the points is a minor thing. This weekend was a great confidence booster for me and has restored my faith in my ability after a few years of not quite being able to show how good I can be."
Another young Kiwi driver who will have had his confidence tank topped up after a great opening round at the Clipsal 500 is 19-year-old Scott McLaughlin.
Many in the know have quietly mentioned over a Tooheys or two, that McLaughlin has all the tools to become one of the brightest sparks in the sport of V8 racing.
Barring his mechanical issue in race three, the young man finished inside the top 10 in the other races getting his maiden win in the last race of the weekend.
McLaughlin is the reigning Development Series and New Zealand V8 SuperTourers champion and after his outstanding performance in Adelaide (sixth and ninth), his win shouldn't come as too much of a surprise.
"It's been a fantastic weekend only upset by a little bit of a mechanical problem but apart from that it was bloody awesome," said McLaughlin.
"Unfortunately I didn't get to stand on top of the podium as they only did that for the round winner. It doesn't really matter because we got the win.
"The team's fantastic (Gary Rogers Motorsport). Gary's tough and I've learnt so much from him already and I've got a brilliant engineer. Things seem to be falling into place and I'm in a good environment and that's what's helping me drive a bit better as well."
Sage words indeed. Having good working relationships around him can only bode well for the young fella's future in the sport.
The teams are making their way down the country towards Tasmania for the second of the points scoring rounds, April 5-7. From there the circus heads across the Ditch for the New Zealand round of the series, April 12-14, at the revamped Pukekohe circuit where Greg Murphy was once almost unbeatable.
Murphy is only racing the endurance rounds this year so it's up to the young crop of Kiwi drivers to fly the local flag high and proud. On current form, who'd bet against a Kiwi V8 pilot standing on the top spot at least once over the weekend?