Thrum, thrum, thrum - a sound we'll get used to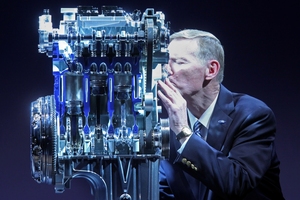 Ford boss Alan Mulally likes three-cylinder engines. He's even been photographed kissing one.
That's understandable, because the three-pot, 1-litre version of Ford's Ecoboost engine family has been critically acclaimed from the moment it went into production about this time last year.
It's the smallest engine Ford has ever produced: quite literally, as one of its claims to fame is that it can fit on an A4 sheet of paper.
It's already used in a number of Ford models and will even be launched in New Zealand later this year, in the facelifted Fiesta range. This turbo engine is no mere curiosity, producing 74kW - as much as a standard engine with 25 per cent more capacity, yet with combined economy of 4.3 litres per 100km.
It points towards the positive future of Ford engines: low-capacity, high-output, deeply impressive economy. In top trim the Ecoboost triple is capable of 92kW ... hence the kiss.
For us enthusiasts, the Ecoboost triple-treat also emphasises that green engines need not be dull. Because there's something about a three-cylinder engine, don't you think?
Fewer cylinders are employed in the pursuit of ultimate economy, but a three-cylinder engine operating on a four-stroke cycle is subject to all kinds of imbalances and subtle vibrations that produce a unique, rather charming feel.
No coincidence, surely, that the companies embracing this new trend of three-cylinder engines are also those intent upon making the most interesting cars? Volkswagen has a history of three-cylinder cars in Europe and has most recently produced the Up! city car - again, highly acclaimed, although it's on the back-burner for New Zealand as the likely price is deemed too high for now. However, Skoda is having a serious think about its version of the car, called Citigo: two evaluation vehicles are in Auckland as we speak.
If you didn't think the thrum of three pots would sit well with the ultimate driving machine, think again. BMW has produced a 1.5-litre three-cylinder engine that will be used in future versions of the 1Series, and in its new front-drive small car (known now as Compact Active Tourer, but possibly to be called the 1 Series GT) and, of course, the futuristic i8 pseudo-supercar, in hybrid form. Not to mention the next-generation Mini, which we should see in production later this year - thus ending BMW's 1.6-litre four-cylinder engine partnership with Peugeot.
Ford, VW and BMW all claim to have toned down the more overt aural idiosyncrasies of their new engines. But not by too much, we hope. They are all interesting cars.
Perhaps the greatest compliment that can be paid to the three-cylinder engine is that it can turn a potentially dull conveyance into an enjoyable machine. Take the latest Mitsubishi Mirage: like the Daihatsu Charade before it, an honest, unpretentious small car built down to a price, but also one imbued with character by the power of three.