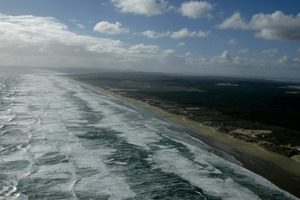 A Top Gear stunt planned for Ninety Mile Beach has prompted Northland officials to apologise to Maori for lack of consultation.
Producers of the hit BBC motoring show will next week film a car speeding at up to 150km/h on the beach for an episode to be screened around the world.
A Far North District Council spokesman said the BBC was given special permission for the beach - also known as Te Oneroa-a-Tohe - to be closed for short periods from March 11 to 17 to film the high-speed drive and other items for future episodes.
The beach is classed as a public road, with a 100km/h speed limit. The filming would be of a car doing up to 150km/h and a "chase car" shooting the action.
It's not known whether any of the Top Gear stars - James May, Jeremy Clarkson, Richard Hammond or The Stig - would be driving the vehicle, or what type of car it would be.
The council had to grant permission for the closure without going through its normal process - advertising and two weeks for public submissions - because the request came in 14 days before the days wanted.
It said the exposure for the Far North would be huge.
Five Far North iwi - Te Rarawa, Te Aupouri, Ngai Takoto, Ngati Kuri, and Ngati Kahu - have custodianship of the beach, but the council approached only Ngati Kuri for permission to grant the road closure outside the normal process.
Under a pending Far North Treaty of Waitangi settlement, the beach will be governed by a board comprising Crown, iwi, conservation and council representatives charged with protecting and improving conservation values while retaining public access and recreation. It will be chaired initially by Te Rarawa leader Haami Piripi.
Mr Piripi was outraged to read of the closure in a public notice in the Northland Age newspaper.
The notice said the closure would be from noon to 5pm each day, with all access points to the beach closed between West Coast Rd, Ahipara, to Te Paki Stream - a distance of about 50km.
Mr Piripi said that would seriously affect iwi members who used the beach for food gathering, recreation and spiritual purposes.
He chided the council for not consulting all iwi responsible.
But the council spokesman said the beach would be closed only in short stretches for no longer than five minutes at a time during filming of the high-speed action, which would likely be done on the first day, weather permitting.
Short stretches of the beach would be closed for up to 45 minutes at a time on the second and final day of filming. The notice for seven days closure was in case filming was cancelled because of the weather.
"The council has apologised (to the other iwi) that we didn't take the consultation far enough and we will be taking steps to ensure appropriate consultation is done in the future," the spokesman said.
For more articles from this region, go to Northern Advocate