Top maker's bean counters have wide grins as the cheques come in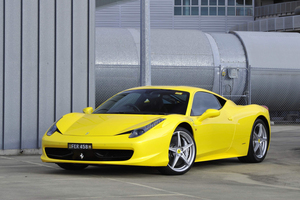 Ferrari put its foot to the floor last year, delivering more thoroughbreds than ever to showrooms and returning the best trading period in its 66-year history. So much for the global financial crisis.
It sent 7318 road cars to dealers (4.5 per cent up from 2011), producing revenue of €2.433 billion ($3.87 billion), an 8 per cent increase.
Trading profit jumped by 12.1 per cent to €350 million, and net profit was up 17.8 per cent at just under €244 million.
The all-important return on sales figure was 14.4 per cent, on a par with the top companies in the luxury sector.
The company made significant investments during the year, including in research and development, which amounted to €324.3 million, up from €280 million in 2011.
This investment was completely self-financed from the company's consistent cashflow.
"We are all enormously proud of ending the year with these kinds of results despite the unfavourable economic backdrop in many European nations, and the distinctly hostile one in Italy," said chairman Luca di Montezemolo at this week's annual meeting.
"The credit for this goes to the men and women in Ferrari, the strength of the brand, a very complete and highly innovative range, and our gradual expansion into automotive markets worldwide."
Ferrari had record sales in the US and Canada, where deliveries rose 14.6 per cent to 2058, exceeding 2000 cars for the first time.
Deliveries were up 20.4 per cent (673 cars) in Britain and 17.4 per cent (357) in Switzerland.
Germany, with an 8.5 per cent increase to 750 cars, confirmed its position as Ferrari's most important market in Europe.
But fortunes closer to home were dramatically different - in Italy, despite performing better than average in a sector that had a 60 per cent drop in sales last year, Ferrari ended the year with 318 cars delivered to dealerships, 46 per cent down on 2011.
The positive trend in the Middle East and Africa continued, with an increase of 4.5 per cent to 556 cars.
China, Hong Kong and Taiwan remained the second largest market with a record 784 cars delivered (4 per cent up). Just under 500 went to the mainland.
Japan, a long-established market, made a significant return to double-figure growth (14.4 per cent up), taking 302 cars.
Retail results were up 5 per cent, thanks to a new interior design concept which will be extended to the 50 Ferrari Stores around the world.
Ferrari has an extensive presence on web channels and social networking sites, having recently passed the 10 million fan mark on Facebook.
On the sponsorship front, Ferrari's racing arm welcomed its first Chinese partner, Weichai Power, whose parent company, the Weichai Group, is one of China's largest conglomerates.
Ferrari also strengthened its links with other companies that lead the world in their sectors, including Hublot, Kaspersky Lab and TNT.