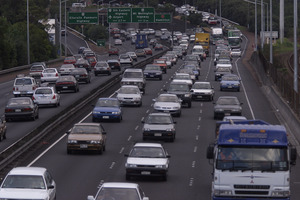 First things first: the Driven team would like to wish readers a Happy New Year and welcome you all to what is shaping up to be 12 months packed with new models, freaky concepts and top-quality events.
It's always hard to give up the holiday trappings and drag heels back to work - our first day at the coalface involved such arduous duties as picking up the keys to a 911. Tough work, but we're here to do the dirty work for you.
The most interesting news over the break was that we're not quite the nation of rusty banger drivers some would have us believe. For the third time since 1989, New Zealand's new-vehicle market has topped the magical 100,000 mark. That's a 19 per cent leap on 2011, and a good sign for an industry that's had its share of beatings in recent years.
Part of the reason behind our newfound excitement about shiny new metal is the fact that there were gaping holes in stocklists in 2011 as a result of tragedies such as the Japan tsunami and earthquake, and the flooding in Thailand.
But there was more to it than just stock issues, there was a big influx of new models, some exciting fresh machines such as the Toyota 86/Subaru BRZ, others bread-and-butter cars like Honda's new Euro hatch. And the 19 per cent jump was obviously made possible by a patently miserable year prior.
The hugely competitive industry really did take the gloves off and started offering incredibly tempting finance, warranty and servicing deals - a big reason to look at brand new as opposed to new-ish.
But we're still the proud owners of an ancient fleet - on average - and it'll take more than a free iPad and some capped-price servicing to tip most New Zealanders into one of these virginal vehicles.
What do you think the secret is to updating the Kiwi fleet? Is it down to legislating rustbuckets off the roads, or is there something a bit less heavy-handed we could try?