The F12 is a little easier on the driver yet still mad and bad, says Jacqui Madelin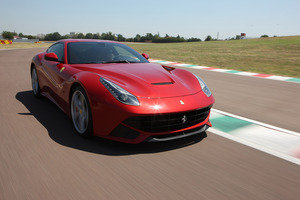 The cacophony from 12 mighty cylinders subsides as the road narrows, carving the crest of a ridge with the misty hills above Ferrari's Maranello, Italy, home falling away on each side. The satnav says we're pointed at a spaghetti tarmac tangle, an automotive nirvana in this car. But our eyes suggest a different story as the road ends at - a cemetery.
Perhaps the F12berlinetta's telling us something, for we've already tried the Manettino switch in sport, hurling gobs of torque to tarmac through wider tyres, screaming into a corner with the mufflers firing like mortars on the over-run as the front pushes wide, catches, and the rear steps out then suddenly we're round, the car wriggling on to the next straight. We're surprisingly and vigorously alive after discovering this car isn't quite the pussycat it seems when driven gently in road mode.
But that's what Ferrari aimed for: a worthy successor to the 599 when driven hard, yet capable in everyday conditions and exciting for everyday drivers - who mustn't forget that this is a thoroughbred with a hair-trigger temper at higher revs.
Achieving this performance while cutting emissions in today's increasingly regulated world made for something of an engineering balancing act when designing this F12, billed as the fastest road car Ferrari has ever built.
For a start it's smaller in every direction, and uses 12 different alloys to make it 20 per cent stiffer, while cutting weight - the 599 used eight alloys.
The 6.2-litre V12 engine is also state of the art, with a high compression ratio, a sparkplug that ignites up to four times each cycle at below 4000rpm, improved fuel spray patterns and developments filched from the 458 like the variable displacement oil pump that delivers less at high speed. The 8700rpm rev-limit is high for a V12, with power ramping up sharply and in an all-but-straight line, peaking above the 599 and dropping less towards top revs - Ferrari says it will reach 90 per cent of maximum acceleration from 2000rpm. Plant your right foot and your head snaps into the headrest as all hell lets loose.
Captain Kirk could hardly hit warp speed much faster.
As a result the car will reach 100 from rest in 3.1 seconds and 200km/h in 8.5, then pull up in 131m - 10 less than its predecessor - while feeling sharper than a new scalpel round bends.
At 544kW and 690Nm power and torque are up while emissions fall by 30 per cent - in part because of improvements to aerodynamics. Ferrari has carefully balanced downforce and drag to find the ideal compromise - with 123kg of downforce at 200km/h linked to a 0.299 Cd. Yet the panels and channels in this aggressive slice of a car have other uses, including active brake cooling ducts that open only when the brakes need it, to cut drag. Those brakes were developed with Brembo, using six-piston fronts and four-piston rears gripping carbon ceramic discs that are less aggressive on the pads and less prone to squealing. I survived to tell you that yes, they're good.
There's nothing like seeing a truck round the tight bend on your side to confirm that; the car all but melting tarmac to stop before the wildly swerving truck could clip its patrician nose, its wide-eyed driver just a rapidly receding memory.
Perhaps fortunately the brakes prime the moment you lift off the accelerator, enough to gain you metres in an emergency.
The double wishbone front and multilink rear suspension carry over from the sublime 458 Italia, with newly fettled magneride dampers giving a much quicker response, and wider tyres both front and rear - the car fielding phenomenal grip.
Even the transmission has had a workover with a wider spread of ratios for a taller seventh gear, accessed via paddles tucked behind a fairly busy steering wheel that dominates the view in this pre-production car, which lacks the seat height adjust of the final version.
Screens show vehicle information, satnav and more, but my brief stint at the wheel was spent driving, not fiddling with buttons, though I did notice the car is surprisingly practical, with a 320-litre boot that expands to 500 through a rear panel that, like the FF, can lower as the fuel tank now sits over the rear axle, not vertically behind the passengers as on the 599.
Practicality is a bonus in a performance car but don't expect Ferrari to take it further; Ferrari president Luca di Montezemolo has said the FF is the furthest he will go from Ferrari's performance template.
For his business model is to keep rich customers keen - and on a permanent waiting list - for these exclusive cars, a waiting list sharpened further by new models which are as mad, bad and fast as ever when the throttle's wide open, but easier to drive every day.