Holden's gunning for sales, writes Jacqui Madelin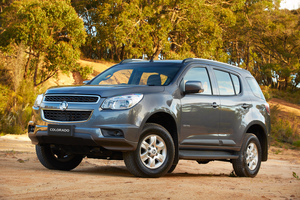 Holden is set on keeping ahead of rivals in an increasingly competitive market, and to do that it needs a car in every niche, and a variant for every buyer - within reason.
SUVs total a quarter of new-car sales and large SUVs took 14.3 per cent in the year to October. Some design and engineering sleight of hand has given Holden entry to that share by converting Holden's rugged Colorado ute into a seven-seat body-on-frame SUV; bingo, a competitor for the now ageing, pricier Toyota Land Cruiser, Nissan Pathfinder and Mitsubishi Pajero.
Meanwhile, fussier entry-level buyers demand the latest tech, and what better than turning your smartphone into a music portal for your car, as the Barina CDX launching in December will do. Add an auto for the Spark and a wagon for Cruze and Holden's poised for a cracking 2013, even before the compact Trax SUV and Malibu mid-size sedan arrive.
First up, Colorado 7 - an SUV based on the ute, with a spacious seven-seat interior. An earlier taster up Auckland's Northern Motorway confirmed its cruising credentials, and our drive from Melbourne into the surrounding hills underlined the 2.8-litre turbo-diesel engine's torque hit.
It's not the most refined motor and it handles like the truck it is, but its road manners are acceptable given the benefits of seven seats, that three-ton tow rating. - and genuine off-road ability.
That was proved when we turned into the forest with its steep, rocky climbs interspersed with clay slick from overnight storms. Switching to low range and with tyre pressure dropped 10PSI, Colorado7 was unfazed by water-filled ruts and holes and even slopes that had my passenger clutching the door handles and wondering if we'd make it. No worries. As long as the throttle is engaged this thing will keep climbing, road tyres occasionally scrabbling given the partially disengaged stability control, nose pointing skywards and 470Nm of torque pulling us ever upwards. Impressive.
Colorado7 may not be all-new but neither are the cars it competes against, and they're mostly priced above the Holden's $62,990-$66,900.
Staggering from the mud-caked Colorado, we threw our bags into the new Cruze wagon. This segment is dominated by hatches with wagons taking just eight per cent or so, most of them Toyota Corolla or Hyundai i30 load-haulers. Holden aims to attract business buyers , the Cruze a smart if unassuming player that easily handled the open roads on our rural Australia route.
Next, we downsized into the diminutive Barina Spark, in a segment taking 14.2 per cent of the market - over 75 per cent of which are autos. Selling in $16,990 manual-only format was a handicap Holden has now addressed. On paper a four-speed auto for $18,990 may seem underwhelming, but it's unexpectedly effective in this 1.2-litre 63kW/113Nm set-up. The wee car proved perky enough round town and capable on the open road
But the icing on the techno cake are the updates to the top-spec Barina CDX with its MyLink infotainment system, available at $26,990 in new six-speed auto format with electric power steering from December. Holden says a claimed 6.3l/100km thirst is a selling point; we think it's the clever tech that'll attract buyers.
A seven-inch touch screen takes pride of place on the dash, with large-text menus accessing one of the easiest phone-link set-ups and address book systems we've tried, plus the usual menus with a few twists. Forget adjusting sound front to rear, or left to right; simply drag the point you want to focus the music on with your finger on the screen and it'll direct the sounds to suit.
You can load photos for slideshows and even short movies - neither of which operate when you're on the move - or create your own personal radio show using Stitcher Smart Radio.
It uses your cellphone to transfer digital radio to your car via Bluetooth, a plug-in or USB. Choose a topic - say, motoring; a sub-topic, electric cars; then listen to consecutive podcasts linked to your choice. Hit a thumb-up if you like it for the system to remember the link, thumb down to skip and avoid next time around. Designed for the US, it now ties in to local content.
But it's Pandora that literally lifts the lid on a cornucopia of music that could lead you into credit-card trouble. Enter an artist or genre you like; it'll play it, then choose others that are similar enough you may like them. Hit thumb-up to like, thumb-down to skip and avoid - and you can download it to iTunes for the usual credit-card fee.
There are downsides; every four tunes is followed by an ad. Like Stitcher, and the TuneIn Rado and BringGo satnav apps that will be available next year, they're only accessible via smartphone (you must already have downloaded the free apps) so drop out when your cellphone does. And they'll eat into data allocation - best upgrade your plan before the bill bites.
That and a few other goodies, like heated seats, make the Barina CDX $2000 premium over the $24,990 CD equivalent look like a bargain.
These may not be all-new cars but they put Holden into more brackets in an increasingly competitive car-sales environment; roll on 2013 for Trax, Malibu and the next Commodore.