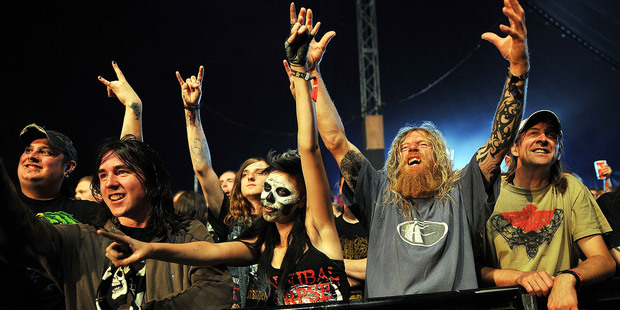 Scion, which a North American Toyota subsidiary, is most usually associated with elderly motorists or Gen-Y white-collar people (the brand's main target) without much money.
So how come Scion has opened a gallery in Los Angeles featuring heavy metal works? Turns out the company thinks the metal crowd has received a bad rap and is undervalued as a consumer base. Scion vehicles are on display as well, in case patrons want to go for a test drive after purchasing some art grunge.
Scion has also been sponsoring heavy metal concerts, albums and music videos. More than 1700 artists have taken part in more than 10,000 events around the US.
Scion has also released the North American version of the Toyota 86, dubbed the FR-S.
Signature speed that's lean, mean and green
Lamborghini is adding green to its colours. Its Aventador supercar is to feature cylinder deactivation and stop/start technology to improve fuel efficiency.
High-powered capacitors provide the energy to restart the 510kW V12 in a "barely detectable" 180 milliseconds.
The Cylinder Deactivation System shuts down one bank of the V12, allowing the Aventador to run as a straight-six when cruising at speeds under 135km/h.
Lamborghini claims a 20 per cent reduction in fuel consumption and emissions when driving at 130km/h.

We are the world
*Quick, call a cockroach! Researchers from North Carolina State University in the US have fitted Madagascar hissing cockroaches with electronic backpacks that include antennas, batteries, cameras and microphones and can "steer" them into tiny openings to help find survivors of earthquakes or bomb damage.
*Russian gay rights leaders recently went to court in Moscow to demand the right to hold a rally not only this year, but every year for the next 100. The city rejected the demand, and a Moscow city court has now ruled that the city could be gay-rights-rally-free ... until 2112.
*Police in the UK hunting a car vandal arrested a university professor and charged him with scratching into several luxury cars' exteriors words such as "arbitrary", "really wrong" and "very silly". They got on his trail after figuring most vandals could barely scrawl, let alone spell such words as "arbitrary". The professor had been a prominent critic of neighbourhood parking rules that allowed outsiders to use the few spaces on his street.

When a deal goes wrong
A Virginia, USA, man spent four hours in jail after buying a Chevrolet Traverse crossover from a dealer in Chesapeake. The salesman sold the car for $6000 less than he should, and when the customer refused to sign a new contract for the correct amount, the dealership told police the buyer had stolen the vehicle.
The enraged consumer is suing the dealership for $2.75 million in damages, plus lawyers' fees.
The cops dropped the charges after finding insufficient evidence.

Renault sees funny side too
Renault has made a three-part documentary series celebrating its beginnings and milestones. It ends with the Modus mini people mover, and includes a Renault 5 pretending it's in the car-chase movie Bullitt.
Sadly though, they resisted putting Inspector Clouseau behind the steering wheel. But it's not that funny: the Renault 5 had a splendid competition history and Good Oil reckons it could easily deal to the 'Stang in corners, if not on the straights.
Renault has 114 years of innovation behind it, starting with Louis Renault's invention of direct drive in December, 1898. This coupling of a gearbox directly with a universal-joint transmission replaced belts and chains and became an industry standard.

The name shame Skoda Laura
Most of the rest of the world knows the car as the Octavia. So it might have been a bit of a bad move to call it the Laura in India where - in Hindi slang - Laura means "penis".