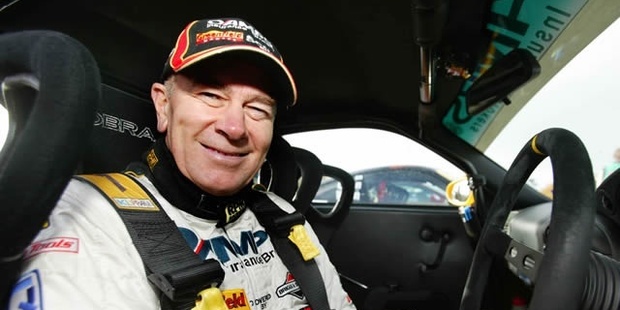 New Zealander Jim Richards will be campaigning his AMC Javelin in the Masters Touring class on the same track he first raced at 38 years ago, carrying on a love affair with one of the most famous circuits in the world.
In all its guises, Mt Panorama has hosted V8 championship racing for 50 years, and for a champion driver such as Richards the place holds a myriad memories.
For the current generation of Kiwi tin-top motorsport fans, Greg Murphy is the one to watch at Bathurst. His present form may not be where he'd like it to be, but there's no denying having four trophies mean you might just know your way around the place.
Fellow Kiwi Richards, who recently turned 65, also knows his way around the track and can boast seven, yes seven, Bathurst 1000 trophies in his cabinet. It may have been a different era, but winning on that circuit was no less difficult.
Many have tried, but only three New Zealanders in the past 50 years have stood on top of the podium on a late Sunday afternoon. Murphy with four wins, Richards with seven, and his son Steven with two.
Richard's most infamous race was in 1992 when he and Skaife won in a Nissan GT-R, much to the annoyance of the crowd]
When standing on the podium receiving the winner's trophy the pair was pelted with beer cans and verbal abuse, to which Richards replied to the crowd, "I thought Australian race fans had a lot more going for them than this, this is going to remain with me for a long time. You're a pack of a***holes."
That's what the Great Race at Bathurst does to fans and drivers alike - it brings out the passion. The following year Richards was approached by dozens of fans asking him to autograph T-shirts that said, "I'm an a***hole, Jim Richards told me so."
In the leadup to this weekend's Great Race, Driven caught up with arguably New Zealand's best V8 pilot to get his thoughts on ... well, a lot of stuff.
Driven: You've been making the trip to Bathurst for quite a while now. What's the attraction?
I've been going up there since 1974 - this year I'll be driving the Javelin - and I haven't missed a single one. I ran for the first time driving a Torana with Rod Coppins and we finished third.
For race car drivers it's another track but it's a pretty special one. In essence, though, it's still another circuit and another meeting you have to go to.
You must have seen a few changes over the years.
I've seen massive changes in the circuit, huge changes in the cars from when I first started racing there and all for the better. It's been resurfaced, more safety barriers, The Chase has been put in down Conrod and lots of other things - all good.
In all the years you've raced there do you think you've put in a perfect lap yet?
No. I don't think anyone puts in a perfect lap. Probably the best lap I ever did was in 2003 in an HRT Commodore when I was the lead driver. We qualified third and after the lap was over and I'd gone around the track later, of course I could have gone faster. Knowing what I did after the lap I realise I could have gone quicker there, there and there.
Of course, you didn't at the time. You thought you were going as fast as you could. The place is technically difficult and so long. You might get the first three corners absolutely perfect but then you might understeer a little on the next and have to back the throttle off instead of going flat.
Every lap you do is the best at the time, though.
When Conrod Straight was straight back in the day, did you guys gear the car for the climb up the mountain, or the blast back down?
Nowadays, of course, everyone has the same differential in a V8 Supercar. You can't gear them any more, as all the ratios are the same. Years ago you'd gear it for the end of the straight only because if you're at maximum revs at the end of the straight you can't be any faster up the hill.
For all the years Kiwis have been racing at Bathurst, only three have won. Why is that do you think?
Realistically it's a big thing for a young Kiwi to go from New Zealand to race there - especially in my day. There are so many good drivers in Australia that you just become another one. Greg and I, and my son, have been very, very lucky in that regards.
There are lots of great drivers in New Zealand who given the opportunity and a bit of luck could do it. If you're a Kiwi driver doing well at home, getting paid for it and doing well with a family you don't tend to want to uproot everything and go overseas.
Who was the greatest driver you've seen around the mountain?
Peter Brock won nine great races and he was a naturally gifted driver and he was as good as anyone you'll see there. Of the modern drivers you'd have to say Murphy, my son, Jamie Whincup, Lowndes and Mark Winterbottom.
You were, and still are, known as Gentle Jim, but there was that one time you let everyone know what you thought. What happened in 1992?
Oh, that was a really hard day. It had been raining and the conditions were really bad, and Denny Hulme had died at the track that day. It was a stressful day all around. First we hadn't won the race then the officials said we had won the race and then Dick [Johnson] started geeing up the crowd. Looking back, the minute after I had called the crowd a pack of a***holes we were having a beer about it.
Who do you think will win this year?
There are probably three teams. It has to be Triple Eight, FPR and then there is the Holden Team with Tander. But these days it's just a series of sprint races where you have to go as hard as you can until they pull you out of the car.