Want to protect your vehicle from thieves? Better be alarmed...and get mobilised!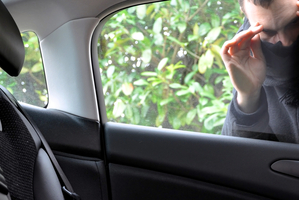 First, a recap of the good news. Car crime has been declining in New Zealand.
Fifteen years ago, 33,934 cars were stolen, representing 91 thefts for every 10,000 people. Last year the number had dropped to 20,724, or 47 for each 10 thousand.
In the same timespan, theft from vehicles fell from 57,186, or 151 per 10,000, to 38,174, or 87 per 10,000.
It's not just declining in New Zealand; there's a downward trend in many countries.
Unfortunately, the car-crime resolution rate remains low, consistently around 11 per cent. So the bad news is that if your car does get stolen or broken into, the odds of a happy outcome are not good. And even if the car is returned, chances are high that it'll have been damaged.
Thefts are down partly because today's cars are more secure. Some high-end models are almost fortress-like. And such "passive" advances as spraying on millions of microscopic dots containing an identification number are a turn-off for thieves who want to strip the vehicle for parts, or try to give it a new identity.
But the more secure you make your car, the better. Security equipment falls into two groups - alarms and immobilisers.
An alarm's basic function is to protect a vehicle from interference or unauthorised entry by sounding a siren. Alarms can isolate and secure almost any part of a vehicle, or the whole vehicle.
The quality of standard-fit alarms has increased hugely in recent years, even on cheaper cars. But plenty of motorists are willing to spend more on upgrades.
Shock sensors, which are usually adjustable for sensitivity, activate the alarm if a vehicle is struck or a window broken. Dual-stage units can warn-off would-be thieves with a pre-emptive chirp should they "test" a vehicle by tapping a window or kicking a tyre.
Microwave sensors can be employed inside or outside the car. That's useful for protecting the exterior of vehicles that attract attention - perhaps a prestige car that's frequently parked on the street.
By setting up a field around the stationary vehicle, the alarm can warn away with a chirp those who come too close. Some offer the option of a vocal warning, Knight Rider-style.
Microwave sensors aren't prone to false alarms like older ultrasonic sensors.
Anti-jacking sensors are often fitted to vehicles with expensive wheels and tyres. These set off the alarm if the vehicle is moved or the parking angle changed.
Most alarms are set by remote control, linked to the vehicle's remote central locking system. They need no user knowledge, once configured, other than the common sense to lock the vehicle. Many use a rolling-code system that makes it harder for thieves to "capture" the remote's signal with a scanner.
An alarm usually confirms that the alarm is active, by a chirp or a special sequence of indicator/headlight flashes.
Some also report if they have been set off while the driver was absent. The alarm may also signal the driver's remote or mobile phone if it goes off.
Many good alarms use under-bonnet sirens, concealed when the engine bay configuration allows it.
Ironically, the bonnet is the one of the weakest secured areas, so the siren is fairly accessible. A determined and knowledgeable thief can usually disabled a siren in a few seconds - either by damaging the unit or disconnecting the vehicle's battery.
Some systems use an independent battery back-up and/or sound the vehicle's own horn, which might be more difficult for a thief to silence.
The sole purpose of an electronic immobiliser is to prevent a vehicle from being driven away. It does this by assuming control of one or more electrical circuits so that a vehicle cannot be started or driven. The more circuits used, the harder it is for the thief to beat an immobiliser.
Closed-circuit immobilisers only work if the security system is operational. If a thief gets in and removes the security system's electronic "brain", the immobiliser will no longer work. But open circuit immobilisers continue to be effective even if the security system is ripped out.
Things to think about
*Be familiar with the original equipment security specifications of your vehicle. Only then can you decide what extra protection you require.
*Go to an expert. Adding effective security equipment is not a DIY undertaking. Because alarms can be purchased off the shelf at accessory stores, there's a perception that security systems are easy to fit. Not so. Even a system that meets the minimum standard will require skill to fit. Special features such as microwave sensors can be tricky to set up.
*Insurance benefits differ. Some insurers give a discount for any kind of professionally installed system. Others have their own lists of "approved" alarms and immobilisers. Some offer no discount for security upgrades.
*Deadlocking's worth a look. While conventional vehicle locks open automatically from inside, a deadlocked door will not unlock under any circumstances without the original key. So even if a thief has broken a window, it's still difficult to remove heavy or large items when there's only the window aperture to work through.