Triumph's Explorer shows us its get-up-and-go-go.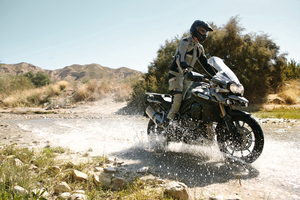 With a cake to carry and 170km of rural roads to traverse, Triumph's Explorer may not have been the obvious choice of mount, until you realise this mighty mile-eater is designed as a dual-purpose bike to match or beat BMW's GS - no terrain's too tough, nor tour too long for this machine.
Triumph chose a 1215cc three-cylinder 12-valve in-line engine purpose-developed for the task and matched it to a six-speed transmission and shaft drive. The format doesn't deliver the low centre of gravity of the BMW, but it felt well balanced as I puttered sedately into rush-hour traffic, enjoying the dual-purpose format's round-town advantages of height - to see over cars - manoeuvrability, and long-travel suspension that soaks up potholes and kerbs as easily as off-seal undulations and, when combined with this seat, ensures buttock-cosseting comfort.
Some riders will be overly short though for, by gum, it's a big beast. My 166cm with spine extended measures just 25cm above its highest point - if we ignore the mirrors. But hauling a ladder alongside to mount it I discovered it's not as bad as it looks. The adjustable seat, at 840mm set at its lowest, snugged my butt well down behind the tank with the slim waist letting my feet touch terra firma.
But really, who wants to walk a tiger round town, and soon we sprinted for the hills to slip the leash. And does this bike boogie. At 101kW and 121Nm, it has more power than the BMW, delivered with shoulder-wrenching vigour that's all the more startling as it arrives without a hint of squat thanks to a floating gearcase.
Just wind it on and go, the verges blurring as you charge into the first bend, sphincter clenching then haul on the brakes and tip those wide bars in, then realise yes, these dual-purpose bikes really do lean over a long, long way. The Trumpy's not nimble in the sporting sense of the word - it's too big to rapidly flick left-right-left through consecutive corners, but it'll carve a tight line regardless and haul out like a cut cat provided you rein it in when bends pile up.
Given an open stretch you'll find torque pours on smoothly from low revs to high, and is delivered with a generous hand in almost any gear, the long wheelbase then helping stop the front wheel from clawing at the sky.
This responsive motor uses sensors instead of traditional cables to relay your commands to the ECU and thence the throttle butterflies, a system that permits both traction and cruise control.
Don't knock the latter, for though it does feel weird to have the bike decide your speed, with an engine this capable it's too easy to pick up the pace where it's least wise, and we didn't want Mister Plod sampling the wares strapped in a sturdy cake tin atop the rear carrier.
So we set the cruise and fiddled with a multi-function trip as complicated as a Boeing flight deck, and the many cost options. Fog lights, a high screen, hand guards and sump plate, engine dresser bars and rubber tank pad all contribute to this bike's eye-watering $7246 - plus fitting - premium over the standard $27,990 machine, as do the heated seats that revolutionise a long, chilly spring ride.
Cake delivery, heated seats? What about the bush-bashing, gorge-leaping, cliff-climbing, off-road shenanigans the Trumpy's looks suggest? I wasn't game for anything more than gravel. The bike may have a tube steel frame for easy back-block welding jobs but it weighs 259kg wet - it's designed for rugged roads not the goat tracks Kiwis call "off-roading" and, anyway, there are mates down south patiently awaiting their afternoon tea.