Daylight saving: time to change the car's clock. Oh dear ...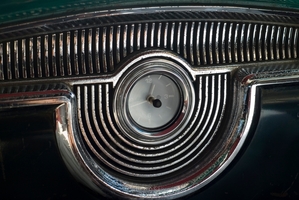 Daylight saving starts in the wee hours of tomorrow morning. But the hour's sleep lost as we "spring forward" may be the least of some people's problems.
Have you tried adjusting the time on your car's clock?
Or clocks plural, as many vehicles have one on the dash, another embedded in the audio display.
Some are so ridiculously easy to adjust that even an adult can do it. These typically have two buttons near the readout - few cars have actual clocks nowadays, with old fashioned hands that slowly sweep the dial. One button changes hours, the other changes minutes. Few things that can be done in a car are simpler.
Well done to those manufacturers fitting such a sanity-saving set-up; take a bow, because others make changing the time a major undertaking. Why does it have to be so hard?
It's not always the car company's fault. Often, after-market audio systems are to blame. These may have been installed when the car was new, or later by an owner looking for more features or upgraded sound quality.
The internet is awash with grumpy people complaining about both the complicated nature of some cars' audio controls and the difficulty of understanding instructions for the supposedly simple job of springing forward an hour.
One visitor complained to the Audioholics online audio-visual magazine: "Our new head unit was harder to control than the space shuttle. I mean it.
"We were fairly certain we could land the Endeavour before we could master all of the features of our new CD receiver."
On another forum, a member grumbled that even after reading the car's manual, he still couldn't change the time. "Why, why, why do they have to make it so hard?" he moaned.
Others in a similar situation have complained that what the owner's manual says to do and the results obtained by following its instructions are two completely different things.
Closer to home, Janey Clarkson, of Hillsborough, claims that changing the time on her car's clock is so complicated she just leaves it to the mechanic when it goes for service.
"But it's out by an hour, one way or the other, most of the time. I just have to remember which way."
Mac Kendall, a New Lynn salesman, says the clock on his car is really easy to change, "but I hate having to do Mum's, it's a real hassle".
Driven asked several car companies why it's so hard to change the time. No spokesman thought there was a problem with their products, as long as the owner followed the instructions in the manual.
One "has heard" that some after-market head units "can provide a challenge".
Auckland technician Cameron Martin, who installs in-car audio and alarm equipment, says, "after-market head units appeal to people who like flashy lights and blinking devices. Function often follows form when it comes to operating controls, like setting the clock.
But that market is immensely small compared to the tens of millions of consumers who are being trained by Apple, Samsung, and others, to enjoy simple, consistent and well-thought-out user interfaces."
Maybe some of the offending car and audio companies should have a word with the smartphone people.
How to change a complicated clock
Take a deep breath. Stay calm. There probably is logic to it; you just have to work out what it is.
Read the manual carefully. Read it again. And again. Some handbooks are great, others defy understanding; they're modern, sophisticated versions of the unintentionally funny "English" manuals some Japanese companies used to supply.
Take your time. Go for a nice coffee if you get frustrated. Or take a nap; you've lost an hour to daylight savings, another won't matter.
Phone your dealer's service department and get them to talk you through it. If you can't change the clock, you can bet you're not alone.
When all else fails: just forget about it. Use your watch. Or ask a 10-year-old.
Good luck for tomorrow.