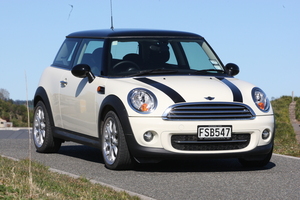 The Mini Cooper D tops the list. Photo / Mark McKeown
What are New Zealand's most fuel efficient vehicles? The 2010 Energywise Rally came up with the winners below. The event measures actual driving on our roads.
Category winners:
Diesel: Mini Cooper D, 4.227l/100km
Would you want to buy one? Yes, but it's not all that practical; you might tire of it even before the warranty expires.
Conventional petrol: Suzuki Alto GL, 4.466l/100km
Would you want to buy one? Tiny and not refined, you'd really want to save gas ... by leaving it in the garage.
Hybrid: Toyota Prius hatch, 4.390l/100km
Would you want to buy one? Maybe, but check out the smaller, cheaper Prius c first.
Class winners:
Small: Honda Jazz 1.3, 5.265 litres per 100km
Would you want to buy one? Roomy but lacking personality.
Compact: Honda Insight S, 4.645l/100km
Would you want to buy one? Maybe, but check the Prius c.
Medium: Toyota Camry Hybrid, 5.367l/100km
Would you want to buy one? Heck yes, you don't have to drive a taxi to like Toyota's refined and roomy hybrid.
Large: BMW 520d SE Sedan, 4.869l/100km
Would you want to buy one? Mortgage the house.
Small lifestyle: Mitsubishi ASX Sport 1.8 4WD diesel (bottom right), 5.389l/100km
Would you want to buy one? Possibly; it's Mitsubishi's most engaging car.
Large lifestyle: Subaru Outback 2.0D Euro Spec, 5.117l/100km
Would you want to buy one? Wagon. All wheel drive. Diesel. A perfect accessory for your Swiss Army knife.
How the ratings rate
Every new car comes with a set of fuel consumption figures and there's a big database covering older models. These might be expressed by a number of stars, as a typical fuel cost per year, or as a set of specific numbers for city driving, highway driving and an overall average.
The sets of numbers, universally available for new vehicles, are determined in standardised lab tests, but don't think they represent what you'll get in actual driving.
Rarely does Driven achieve the lab-test figures, even when trying to be economical. However, economy runs have proved it can be done, so don't be discouraged from trying.
On the other hand, the lab figures are good for comparing the thirst of vehicles short-listed for possible purchase.
The computer knows best
Lots of recent-model vehicles, including inexpensive ones, monitor fuel consumption and tell the driver how well he or she is doing.
These range from a simple green light or other eco indicator that lights up somewhere on the dashboard, to elaborate readouts and graphs.
Hybrids tend to have the most eco info, because saving fuel is what they're all about.
The new Toyota Prius c will even tell the driver how much any trip costs.
Fuel for thought
The 2c increase means the Government now gets 88.899c of the cost of each litre. Here's how the tax adds up:
Fuel excise: 50.524c
GST: 27.77c
ACC levy: 9.9c
Local authorities fuel tax: 0.66c
Petroleum monitoring levy: 0.045c
Total tax: 88.899c.