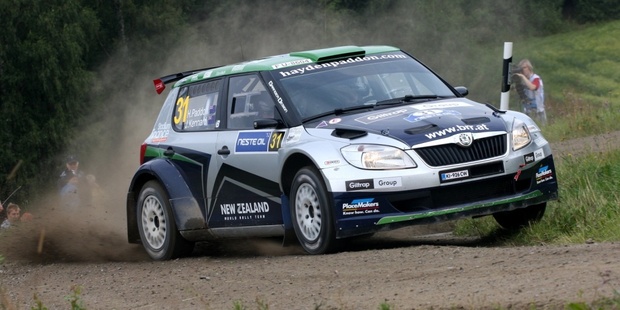 An engine malfunction has forced Kiwi rally stars Hayden Paddon and John Kennard out of Rally Finland after just two stages of the event's second day.

"Unfortunately our Rally Finland has not gone to plan, terminal engine failure today putting us out of the event and a zero point score for the weekend," said a disappointed Paddon from the Jyvaskyla service park on Friday morning, local time.

"It is bitterly disappointing especially after how good the car was feeling and how easily the times were coming. We certainly had a lot in reserve as we got more used to the car and this is something encouraging to take forward as we now look toward our next round in Wales Rally GB in just over four weeks."

Paddon and Kennard started day two in Finland as the second-placed Super 2000 World Rally Championship competitors, just 1.5 seconds behind Finnish driver Esapekka Lappi.

Paddon continues: "The day started okay, with a good clean run through the opening stage. The second stage was then going better, matching the splits of the Volkswagen-run Skodas and pulling away from our nearest championship rivals. Unfortunately only 2 km from the end of this stage, the engine dropped onto two cylinders. We limped over the finish line, having lost around eight seconds in the stage, and regrettably we were unable to get the car back to service.

"Rally2 rules say that engines can not be replaced or internally repaired during an event as they are a sealed unit, so we are unable to make repairs to re-join tomorrow. We do know that it is a small malfunction of one of the components through no fault of anyone."

Ever the professional, Paddon is focusing on the positives and remains encouraged by the pace he's been able to achieve in the new Baumschlager Rallye & Racing (BRR)-prepared car.

"At Wales Rally GB, John and I will be targeting to put a good battle to the VW drivers.

"Currently Craig Breen is leading SWRC from P-G Andersson, and I admire Craig for the performance that he is putting in under the circumstances.
[Breen is contesting his first SWRC event since the death of his former co-driver and friend Gareth Roberts in a crash on a non-championship rally in Sicily in June.]

"Despite our retirement, with results how they stand, the three of us will all be separated by seven points going into Wales Rally GB, so the championship will be a good fight all the way to the end."

Paddon praised his new BRR team. "They all did a great job throughout the weekend."

Paddon returns to New Zealand this coming week, before heading back to the United Kingdom later in August to establish a new base for the reminder of the year. ma