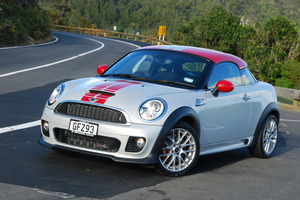 Rear seats have been swapped for storage space. Photo / Jacqui Madelin
What is it?
Mini's coupe, in John Cooper Works hottie form. Odd looks imparted by lower roof and short cabin plus truncated boot make sense from the inside, where the driver benefits from even better handling to make the most of this JWC's 155kW/280Nm 1.6-litre turbo engine, six-speed manual and manic sport mode. At $62,200, it's a well-heeled car-lover's toy.
We like
This is a genuinely practical Mini, discarding the rarely used rear seats for secure luggage space.
The 280-litre boot's boxy shape meant it swallowed a full size suitcase, airline-size overnight bag, camera bag, coats and shopping with room spare for smaller items, and all of it out of sight. A shelf behind the seats accommodates handbags and light coats, too.
We loathe
John Cooper Works' rock-hard ride - great in Schumacher mode but a pain in the commute.