Paris Hilton owns one and Tony Hawk has jumped one on his skateboard. Yesterday New Zealand Herald photographer Christine Cornege got a taste of how the rich and famous travel when she hit Hampton Downs in Waikato for a hot lap in a Lexus LFA supercar.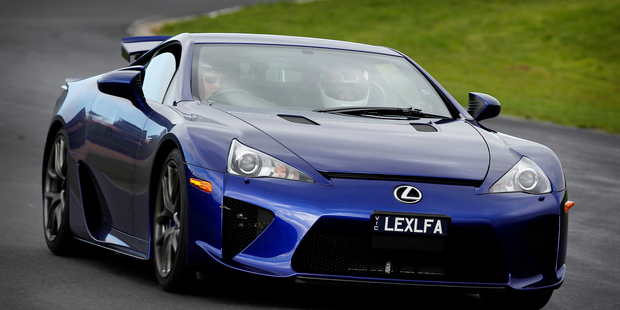 Approaching the sleek, blue Lexus LFA supercar, I got an immediate sense of power waiting to burst free and once inside first impressions are quickly confirmed.
With the ability to accelerate from a standstill to 100 km/h in 3.7 seconds and a top speed of 325km/h from its Yamaha-built all-alloy 4.8-litre V10 engine, I thought I'd find myself clinging to the seat.
However, piloted by Australian rally and racing driver Neal Bates, the LFA put on a smooth performance despite a wet track, braking comfortably and squealing through corners with ease like a getaway car.
Having driven at high speed on the Autobahn in Germany in a late 1980s hatchback and feeling like I was going to get airborne, I found it hard to believe we were travelling at 220km/h in the LFA and was surprised to find myself completely at ease.
The LFA is one of 13 such cars in Australasia and is in New Zealand as part of the Lexus Experience event.
Only 500 of the hand-assembled cars will be built and any Kiwis looking to join the elite club of LFA owners will face a hefty price tag.
The limited-edition car will not be for sale through New Zealand dealerships, but, General Manager of Toyota New Zealand Limited Steve Prangnell said sales could be arranged through Lexus Australia where the LFA retails for A$750,000 ($970,000).
The car is in Auckland for another week and will be open to the public to view at Lexus of North Shore from Saturday to Tuesday June 5 and Lexus of Auckland City from Wednesday June 6 to Friday June 8.