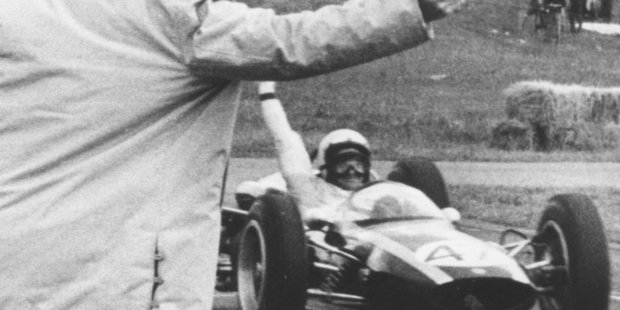 Motor racing legend Bruce McLaren was a Kiwi flier, says Andrew Kerr
Fifty years ago this Sunday Bruce McLaren cemented his superstar status by winning the 1962 Monaco F1 Grand Prix. It was one of several pivotal victories in a golden decade for New Zealand drivers.
McLaren achieved his first European Grand Prix victory in a Cooper, as he danced around the Monaco street taking the chequered flag with a flame-red Ferrari breathing down his neck.
McLaren accepted the winner's trophy on the steps leading to the royal box where he was congratulated by Prince Rainier and Princess Grace, and joined by his wife Patty.
In 1962, McLaren was 24 and had started his fourth season of Formula One with the Cooper team.
One obvious trapping of his success was a Jaguar E-type roadster configured for high-speed cruising. It was a car he sometimes used for exploratory laps of racetracks.
A prolific letter writer to his family in NZ, McLaren reported ongoing discomfort from the effects of Perthes disease - a condition that affects leg bones - during childhood. This led him to seek opinions from leading London surgeons in the early 1960s.
McLaren drove to the Monaco race weekend in convoy with two (amicable) rivals, Jim Clark and Trevor Taylor, both of whom raced for Lotus.
This was the 20th running of the Monaco event, and race two of nine on the drawn-out championship calendar. The distance was 100 laps of a damp 3.1km street circuit. There were no scheduled pit stops and none of the cars had fitted seatbelts.
McLaren wrote in a newspaper column that "no circuit in the world equals Monaco for a motor racing classic" but noted that Monaco wasn't an ideal circuit for passing. "Often you will sneak through on the inside of a corner only to be stumped with a slow exit, and the car you have just passed roars by again."
Cloud cover gave the drivers some relief during 2 hours and 46 minutes of toil around an unforgiving track still noted for its high attrition rate. Drivers were as prone to overheating as were tortured brakes and engines.
McLaren was known to carry a flask of iced orange juice or to stuff a few pieces of orange into his racing suit pocket for a fleeting mid-race revival.
His Cooper-Climax was rear-engined, like today's F1 cars, but the capacity of its V8 engine was just 1.5 litres.
The race report in Autosport magazine showed that McLaren qualified third, and lined up on the Sunday beside Clark's Lotus and Graham Hill's BRM.
McLaren took the lead for the first few laps after Clark and Hill tangled at the first corner with the ambitious Frenchman, Willy Mairesse, driving his debut race for Ferrari. Clark later retired mid-race with engine and transmission problems while Hill overtook McLaren and led for 86 laps until his engine lost oil pressure.
McLaren was left leading with eight laps remaining and fended off the relentless challenge of American Phil Hill, the reigning F1 champion. The margin at the chequered flag was just 1.3 seconds.
After back-to-back breakthrough wins at the 1959 US GP and the Argentine GP of 1960, McLaren's Monaco win, "his first F1 victory in Europe", was a boost to his profile and confidence. He had just assumed the role of lead driver at Cooper's following Sir Jack Brabham's departure to form his own successful team at the end of 1961.
Monaco proved a happy hunting ground for McLaren in the early 1960s. After claiming third place the next season, he stayed on after the race with South African teammate Tony Maggs and, in a letter home, wrote: "We are doing about 10 miles water-skiing and four miles rowing a day, which should keep us fit enough to last the rest of the season."
At the end of that 1963 season, McLaren decided to contest the Tasman Series in New Zealand and Australia in a modified Cooper campaigned under his own name. Bruce McLaren Motor Racing was born and he led his own team to the 1964 Tasman title.
Things gradually snowballed as McLaren honed his driving skills while demonstrating unique abilities as a designer, engineer and team owner.
He won the 1966 Le Mans 24 Hours in a Ford GT40 shared with another Kiwi ace, Chris Amon, describing it as "by far the biggest race I've ever won".
The car arrived at Le Mans painted a dark blue but had to be repainted for recognition purposes. McLaren chose a winning combination of black with silver stripes, a silver fern on each side and a kiwi logo on the side windows. Brabham later described McLaren as probably the best ambassador his country could have found.
McLaren topped this win by recording his team's maiden Grand Prix victory at Spa, Belgium, in 1968, driving a Cosworth-engined M7A with striking orange livery.
On the sportscar front, McLaren dominated the prestigious Can-Am series in North America from the late 1960s, winning the championship in 1967 and 1969.
Fellow Kiwi Denny Hulme emulated McLaren's Monaco GP feat by winning the 1967 race for Brabham en route to becoming that year's F1 champion.
Sadly, Monaco proved to be McLaren's last competitive outing. A few days after retiring from the 1970 race, he flew from London to Indianapolis to watch his team's maiden attempt at the Indy 500.
On his return to the UK he was killed while testing a Can-Am sportscar at the Goodwood circuit. Four years later, in a fitting tribute, McLaren Racing won both its first Formula One drivers' championship and constructors' championship, as well as the Indy 500.
A large Kiwi contingent, including his sister Jan McLaren (who manages the Bruce McLaren Trust), is in Monaco to commemorate the 50th anniversary of the win and to attend the Monaco Historic Grand Prix meeting.