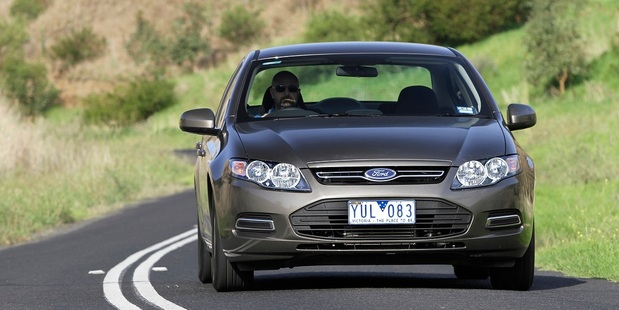 Ford is taking a big swing at the big car market - with a surprisingly small bat.
The Falcon will now be available in New Zealand with the two-litre four-cylinder EcoBoost engine already available in the range-topping Mondeo Titanium and Zetec, as well as in a couple of Volvos. It will also be seen in the little Focus ST.
It's a bold move in the large car market, and one that sets a four-cylinder against Ford's traditional six-pot seller.
Will the average Falcon buyer be ready to give away two cylinders to bestow an environmental cuddle on the world? This is where Ford's battle lies.
To convince the buying public that the small engine is enough to haul 1600-odd kilograms around New Zealand's roads, it first needs to convince a dealer network that's been selling the six over competing fours for a long time.
Ford New Zealand managing director Neale Hill admits that there will be challenges getting many just to try the big sedan with the little donk.
"Without a doubt that going to be a challenge," he said. "There is going to be a process that will have to happen in the dealerships, talking people through the differences and benefits between the vehicles.
"Falcon being rear-wheel drive offers very different permutations in terms of towing, solid on the road, very comfortable long-distance cruiser."
The fact that Ford chose to launch the EcoBoost Falcon in Tasmania should have been a clue to its confidence in the new car.
The bulk of Tassie's highways and byways are a fairly close match to New Zealand's roads.
But there are also some very tight, narrow and twisting roads with random elevation changes, potholes and crumbling edges, as well as a large amount of wildlife, some of which ends up as an impromptu judder bar.
After several hundred kilometres in the lowest-spec EcoBoost XT on these roads - and a couple of hours playing on a country racetrack - the car was an absolute surprise. I'd take the new four-pot over the six in a second.
Its fuel economy is rated at 8.1L/100km combined in the brochure, and our test machine returned an impressive 7.7L/100km after some reasonably spirited back-road driving.
The power delivery of the forcefed two-litre is fairly immediate, with a small turbo that spools up quickly and sends 179kW to the ground, if you're running 95 octane fuel, and 176kW on the cheaper 91 octane. It puts out 353Nm on the better gas, and drops 3Nm when using 91.
The four-litre six puts out 195kW, but the car weighs nearly 74kg more, which gives the two-litre a significant handling advantage.
With the smaller mill and six-speed ZF transmission pushed further back and both sitting on redesigned mounts, the Falcon takes on a far tighter persona on the road.
Suspension geometry has been altered, dropping the car by 13mm and spring rates have been slightly increased at the front and pushed up by 40 per cent at the rear.
This has totally changed the dynamics of what is still a very large car to pedal on tight roads.
Turn-in ability is sharpened, lifting driver confidence to push harder and making for a far more engaging experience.
The low-spec XT, priced from $48,490, is obviously not designed as a sporty derivative of the Falcon - at this level it's aimed at fleet buyers and those who like to tow a boat or, heaven forbid, even a caravan.
One big compromise buyers of the EcoBoost will have to accept is in towing capacity. While the six-cylinder model will happily haul 2300kg, the four will have to settle for 1600kg.
It has no shortage of torque, though, and most people don't pull that much weight behind them.
The EcoBoost Falcon will arrive in New Zealand midway through next month, but two models won't be on sale here. The two-litre executive G6 and G6E models - curiously retaining the supposed six-pot nomenclature - will be available only for our trans-Tasman cousins.
If Falcon buyers get excited about the scaled-down engine and demand leather seats and other luxury add-ons, the G6E will be brought in, but the mid-spec G6 is not even being considered.
"The reason we chose XT specification over G6E was that we've looked at the segmentation in the market in terms of who we're going to be pitching the vehicle at," said Hill.
"Where we see XT fitting in initially is at the lower end of the corporate market. G6E fits into management or senior management in terms of power, performance, specification, luxury and also where it's priced.
"A lot of companies categorise their fleet purchases in terms of six cylinders so that's where we see the difference coming in initially," he said.
"If there's a demand for it, and we do see the demand shifting to the higher series, then we will certainly respond to it, we will certainly bring the G6E in as an option.
"We've just chosen to concentrate on the lower end of the market."
Ford's E8 vehicle line dIrector, David Wilkinson, reckons he's not overplaying the EcoBoost's abilities when he uses the hackneyed "no compromise" label.
"We use that phrase unashamedly," he said at the launch. "This does not feel like a small engine in a large car."
He's right, it doesn't, but there are some giveaways other than the amount of open air under the bonnet.
The car's note is higher and more urgent than the lazier six-pot, and while it's refined around town at low revs, burying the foot produces more of a scream than the steady thrum we're used to.
Turbocharging has never truly endeared itself to mainstream buyers, but the technology is now fantastic, and allows solid power output without having to quench a huge thirst.
Turbo lag has long been a problem when using big hairdryers, but the EcoBoost's is tiny.
"We're not chasing peak power," Ford's UK-based petrol engine boss Andrew Fraser told Driven.
"So we've gone for the smallest turbo that we can. At low speed it gives power and torque across the range.
"Turbocharging has come of age, and there's no questions about its suitability to passenger engines.
"I wouldn't claim that we've 100 per cent eliminated lag, but we've certainly improved it."
So will the market embrace the four-cylinder Falcon, with its clever EcoBoost tricks and meagre fuel economy?
As Ford admits, the big challenge will be getting Falcon buyers' bums in the seats.
Falcon EcoBoost - the tricks
Milking 179kW out of two-litre four-cylinders without big laggy, turbos used to be the stuff of engineering dreams - but this technology makes it possible.
Ti-VCT - twin independent variable cam timing allows continuous adjustment of intake and exhaust timing, adjusting valve overlap to cover off quick jabs of the throttle and other driving realities. With a very high-pressure (up to 20MPa) fuel pump mounted at the end of the cylinder head, driven by the exhaust cam, and a fuel rail that runs alongside the cylinder head, burn control is optimised to a point that nothing is wasted. A "scavenge mode" enables the head to self-purge, opening valves on both sides at the same time, burning off excess fuel and allowing a clean burn on the next stroke - all in a fraction of a second.
DIRECT INJECTION - spitting fuel directly into the combustion chamber is complicated business, but it works. As well as evaporating and cooling the intake charge, seven-hole injectors give a super-misted spray that burns perfectly as pistons with bowled centres squish the mixture. This allows a 9.3:1 compression ratio without risk of nasty knocks or bore wetting, and gives a finely-tuned and directed spray matched to the Ti-VCT's cycles.