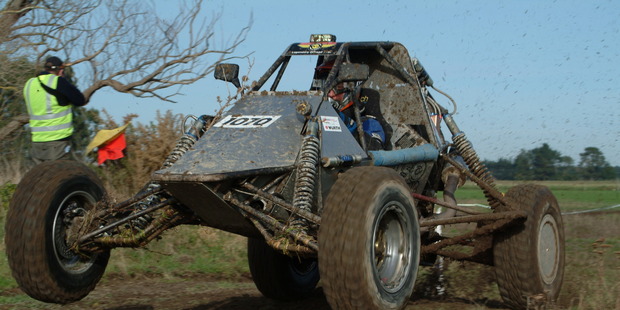 Auckland driver Darryn Bell makes his 2012 offroad racing championship debut at this weekend's opening South Island round, the Nelson Ruff'n'Tuff endurance race.
Bell is bringing his Denny's Range Rover V8 south for the event and is the first North Island racer to embark on a southern campaign. His TVR-engined truck is well proven and has posted top results in forest endurance races in the North Island.
Organiser Darrin Thomason says Bell is an exciting addition to the entry list for the event and the presence of another V8-engined four-wheel-drive is a sure crowd pleaser.
"We are looking forward to seeing how Darryn goes, especially as his in-class competition is a Nelson-based racer driving a Mitsubishi Pajero V8 - a truck originally built in the North Island."
Raced over short laps of about 12km to a total distance of 180km, the Nelson event is the first chance for South Island racers to get points on the board in the 2012 Mickey Thompson New Zealand Offroad Racing Championship.
West Harbour (Auckland) racer Taine Carrington leads the championship with 128 points after two North Island rounds; his closest rival is Tauranga's Jason Delahunty on 123.
To claw back some points parity, racers this weekend will need to score top-class points and take a podium outright finish in the event.
Coming from Christchurch is a cluster of race teams aiming to reopen long-standing rivalry between Nelson and Christchurch, including Bryan Chang (GT Radial Ford Falcon ute) and Wayne Moriarty (Euroblast Cougar Toyota).
Both Chang and Moriarty are former class champions and say they relish racing in Nelson's hilly forests.
The Nelson club has a reputation for plotting tough and challenging forest-based endurance races, making the most of the hilly terrain that surrounds the city.
This year's course is based 60km southwest of Nelson and is a classic Nelson enduro - a challenging mix of fast roads and twisty tracks.
Thomason says weather is always a factor.
"Throw in an unseasonal early snowfall, as we had a few years ago, and braking becomes tricky with the ground frozen hard under the snow.
"Or with the current stable weather we could well see an event where dust is a factor and it's very difficult to overtake, making for some daring moves in the sections where there is good visibility," he said.
"Traditionally, an enduro will favour the bigger, faster cars, but in Nelson, anything can happen.
"We have had tiny motorcycle-engined class 10 cars lead these forest races before, and it's only a matter of time before the big bangers miss a trick," said Thomason.
One of the entries in today's race is the Barracuda class 10 of Tuatapere's Hamish Lawlor, a tiny race car with a Suzuki Hayabusa superbike engine. Lawlor has led Nelson enduro races before and will be keen to finally notch up an outright enduro win.
"With Hamish there, with some top truck teams and the big field of class three and class one cars, it is anyone's guess who's going to come out on top - the one certainty is there will be some great racing," said Thomason.
The race track is accessed by heading out of Nelson through Richmond to Belgrove on SH6, then continuing over Spooners to Korere-Tophouse Road. The venue is signposted and racing begins at 11am today.
Offroaders - class by class
Whakatane Commercial Spares class one
184 JOSHUA LEE
116 KEVIN NANKIVEL
192 ASHLEY KELLY
Class one cars are the sport's fastest and most powerful; featuring turbocharged, supercharged, four cylinder or V6 and V8 engines, they are capable of speeds up to 220km/h over rough terrain. Class one cars are the focus of much engineering innovation with new designs emerging in Auckland and Christchurch and many new V8-engined cars threatening a long domination of four cylinder designs.
Class two (production trucks)
231 IAN SIMCOX
Class two race trucks are a great way to get into offroad racing. Performance modifications are limited and there is strong emphasis on safety. These are the four wheel drives seen every day on New Zealand roads with safety modifications including roll cages, race seats and safety harnesses.
Leader Products class three super 1600
372 JOHN VAN DYK
312 WAYNE MORIARTY
301 NIGEL SUTHERLAND
341 CARL GARDINER
345 GORDON ADAMSON
Class three cars are almost as tough and fast as class one, but are limited in engine capacity. Capable of outright wins.
Class four - sport trucks
444 DARRIN THOMASON
Class four trucks are allowed greater freedoms in engine and transmission development, and have more suspension travel than class two. These trucks have engines of up to 4.3 litres and can be four or two wheel drive.
Class five super 1300
577 CLINT DENSEM
Class five cars have engines up to 1.3 litres. Agile and fast, especially in low-grip wet races.
Class six challenge trucks
666 ROGER MCKAY
622 DARRYN BELL
664 NEVILLE TAYLOR
This class was created to cater for the winch challenge drivers who sought the challenge of faster competition. The trucks can feature V8 engines but must be street legal with a current certificate. Engine capacity is unlimited and a wider range of suspension modifications are allowed, making these trucks almost as fast as the "unlimited" class eight trucks.
Class eight thundertrucks
847 BRYAN CHANG
800 DONALD PRESTON
Guaranteed crowd pleasers, the class 8 trucks are the truck-class equivalent of the class one cars. Turbocharging and supercharging are both allowed, brakes and suspension are unrestricted, and the class allows wide range of modifications and innovations in their chassis design and construction. Most class 8 trucks are V8-powered.
Challenger VW
C82 ROB PALMER
C98 JOHN STRICKET
C41 SIMON CRAIG
Offroad racing's equivalent of a one-make class, all Challengers must use a flat four VW engine of no greater capacity than 1.6 litres. Engine internal modifications are allowed, but all cars must run the same carburettor, meaning there are limits to how much performance benefit can be gained from the internal modifications. These controls tend to mean racing in Challenger VW class is close and exciting due to the similar outputs of the cars.
Class 10 'Odyssey'
1070 HAMISH LAWLOR
Motorcycle engined offroad vehicles - engines can be air or water cooled and run up to 1.5-litres, though supercharging and turbocharging are banned.