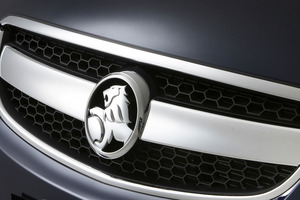 A Hamilton sales consultant has become the first person in history to receive the Holden award for 15 years of outstanding achievement.
Bernie Krippner, of Ebbett Hamilton, received the award from dealer-principal Ben van den Engel in the Ebbett Holden New Vehicle showroom this week.
The sales achievers programme is designed to recognise outstanding contributions by Holden staff throughout the country based on their sales volume.
Out of more than 120 sales people in New Zealand, the top 10 are recognised annually and Krippner has not only been one of the top 10 sales consultants for the past 15 years, he has also won top place four times.
A small group of sales achievers have received recognition after five years of top sales, an even smaller group have achieved the 10-year status and Krippner is the first person to reach 15 years in an industry where half a decade in one dealership is a huge achievement.
Krippner was a little bit lost for words after receiving his award.
"I feel very humble to receive this award and I really appreciate that this long-term achievement has been recognised and I consider myself very fortunate to be working here," Krippner said.
Ebbett Holden owner, van den Engel, remembers Krippner arriving at the dealership 21 years ago.
"After a short stint in used cars we moved Bernie into new cars 15 years ago and we have never looked back, said van den Engel.
"Bernie is a very focussed sales consultant and has always had a great work ethic, he is also proof that you can make a long term career out of selling new cars."
Holden New Zealand National Sales Manager, Michael Doeg, was impressed with the achievement and expects Krippner to continue to make history in the years to come.
"Bernie has earned his place in the annals of history and is a great example of what can be achieved in this industry," said Doeg.
For now Krippner is back to doing what he does best, selling new cars at Ebbett Holden Hamilton.