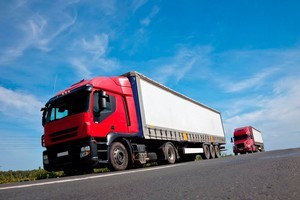 Have you read recently about the trucking company in Australia that was raided by the police after investigations into a crash which claimed three lives in Sydney's southwest last month?
NSW Police uncovered alleged speed manipulation tampering, fatigue breaches, false log-book entries and drug possession.
According to the New Zealand Transport Agency website, heavy motor vehicles (vehicles with a gross vehicle mass of over 3500kg) and heavy motor vehicles towing trailers are restricted to 90km/h. Yeah right.
I'm not alone in knowing that's rubbish. I travel about 700km a week and I've lost count of the number of times where I've pulled alongside a large articulated lorry and matched its speed on a dual carriageway.
I've glanced down at the speedo and noted speeds up to 110km/h. Even with the recognised margin of error that is still way over 90km/h.
Hands up anyone who has been pinged by a police officer sitting at the end of a passing lane and been done for speeding because you're trying to get passed a truck? Thought so.
While not wanting to tar every truck driver with the same brush, there are a huge a number of them out there who are just plain awkward bastards who, given the chance, would want to rid the road of all car drivers.
I'm going to ask the same question I have done for years - and never had a reply. Why do truck drivers speed up when arriving at passing lanes and sit at around 100km/h or not let the queue of traffic pass they've held up for kilometre after kilometre?
And explain to me why, when trucks are supposed to stay at 90km/h, you feel the need to pass another truck also travelling at 90km/h?
And before any truck drivers say it doesn't happen I, and a lot of others, have acres of pictures proving just that.
While truck owners and drivers start reaching for the keyboard or phone, most of us don't care that a few things might be missing from the supermarket shelf for a couple of hours, so don't blame the consumer for pressurising you folk into breaking the law.
If the transport company is a listed one, blame the shareholders for trying to squeeze every last ounce of profit out of the outfit. I've said it before and I'll say it again - if you worship the god of numbers you're doomed.
I hope the New Zealand police have taken notice of what has happened over the Ditch and are gearing up to pay a flying visit to a few truck firms in New Zealand.
They may just find something we car drivers have known for a while - not all trucks are governed to 90km/h.