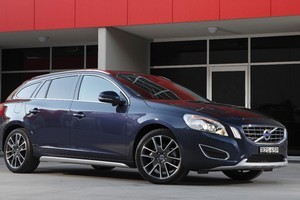 What will happen to Volvo under the ownership of Chinese maker Geely? The marque's newest models, the S60 (sedan) and V60 (wagon), still date from Ford's ownership of the brand and owe much to the Mondeo underneath.
On top, they're still the very stylish work of Peter Horbury, the British designer who pretty much created Volvo's now-signature look - distinctive features like that tapered roofline and strong shoulders.
New for 2012 is the Volvo S60 D3 - an entry-level diesel model that sells for $68,990, or $71,990 in V60 wagon form as tested here. There's a little sleight-of-hand involved, because while the D3 is $3000 cheaper than the D5 it replaces, it has less power and is no longer all-wheel drive.
If you were wondering what the D3 badge means - well, we're not really sure.
Like the old D5, the new 2.0-litre D3 has a five-cylinder engine. In true value-for-money terms, you're probably paying a bit more for the V60 D3 than the previous D5, but that's okay: it's a more sophisticated, spirited (if 0.7 seconds slower to 100km/h) and likeable powerplant.
Not to mention one capable of 6.0 litres per 100km - yet still offering a muscular 400Nm of torque (the D5 offered 420Nm/6.9 litres).
Sporty it's not, but The D3's diesel engine gels nicely with the six-speed automatic gearbox, and the car rides well because it's on sensibly sized 17-inch wheels.
The V60 cabin remains a thing of extremely high quality and elegant simplicity, and still comes as standard with trinkets such as power driver's seat adjustment and a multimedia system with seven-inch screen.
City Safety - the clever-clogs system that can automatically prevent a nose-to-tail collision at up to 15km/h - is standard on all V60 models. However, other tricky safety stuff like adaptive cruise control and Blind Spot Information System remain optional, as they are on pricier V60 models, because cutting-edge safety features aren't essential to the Volvo experience these days. Just as cargo space isn't essential to the Volvo estate experience these days. The V60's load area of 557 litres is by no means capacious by class standards, but the car's low roofline and coupe-like rear are the last word in sporting style. How things have changed.
Horbury, by the way, has been promoted to head of Geely group design so now he's in charge of styling not just Volvo but also the Chinese maker's forthcoming models.
Obviously, Geely would be mad to mess with the style and quality for which Volvo is now known. Rather, it's likely that the Volvo/Horbury connection will lead to something even more shocking: the inspiration for a stylish and thoroughly contemporary range of Geely cars that will appeal to international markets.