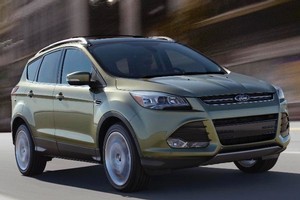 Ford. Photo / Supplied
First, the bad news: those of us at the Los Angeles Motor Show expecting game-changing new-car launches were a bit disappointed. Between the heavyweight atmosphere of Frankfurt (the world's largest car show) before it, and the expectation of the Tokyo event to follow, there was a sense that many carmakers were simply treading water between the two.
So the glamour was lacking. The good news is that there were still several important debuts to grab the attention of a Kiwi visitor. Without further ado, in the order they were unveiled ...
JAGUAR
The convertible version of the searing XKR-S was welcomed by literally dozens of handclaps. Whether the dour response was down to familiarity or the model's rather gauche body addenda is anyone's guess, but the stats are still impressive: 410kW and a 0-96km/h sprint of 4.2sec.
The crowd were much more enthusiastic about the reappearance of the C-X16 "production concept". The acclaimed compact sports coupe was wheeled out in a new white exterior paint finish.
PORSCHE
The new 911 was the star of the stand, but Porsche also launched a track-focused version of the Panamera luxury five-door. The Panamera GTS sports a 4.8-litre V8 uprated to 316kW, a faster-shifting PDK gearbox, 10mm-lower suspension and a four-wheel drive system with more bias towards the rear. Go fast, relax.
FORD
This is a bit more like it: highly relevant, hugely appealing. Ford New Zealand might have just launched the previous-generation Kuga crossover, but the next one was unveiled at Los Angeles. Based on the current-generation Focus platform, it's a global model that picks up the brand's latest styling cues and key technologies, such as the high-tech MyFord infotainment system. The core engines are EcoBoost four-cylinder petrol-turbo units, although diesels will surely follow.
The new model is yet to be confirmed for Australasia, but let's face it: with crossover business booming, it's a no-brainer for New Zealand.
While the Kuga name is likely to continue for Europe, expect the old Escape badge to be revived for New Zealand. It will be a while coming, though: perhaps not until 2013.
HONDA
Not so fast, Ford. Immediately following Ford's Escape, Honda pulled the wraps off an all-new fourth-generation CR-V. No dramatic changes in the concept and configuration: power still comes from a 2.4-litre four with a five-speed automatic gearbox. Contrary to some rumours, the vehicle has not moved to a seven-seat layout; it remains a five-seater. However, Honda claims the new model is better-equipped and more practical, with an even lower cabin floor (always a CR-V strength) and new design of fold-flat 60/40 split-folding rear seat. Expect to see it in New Zealand early 2012.
SUBARU
After showing off the innards of its upcoming BRZ sports coupe at Frankfurt, Subaru pulled out a fully clothed "Concept STI" version for LA.
The rear-drive two-door - a joint venture with Toyota - features body addenda by the Japanese maker's performance division, including a bespoke front spoiler and large rear wing. The centre of gravity is lowered by way of a carbon-fibre roof panel.
The standard production BRZ will be launched at the Tokyo Motor Show this month. Will the car make it to New Zealand? Possibly not, as it's a niche effort and the rear-drive layout doesn't fit with Subaru New Zealand's all-wheel-drive ethos.
The Toyota version will, although that car wasn't shown in LA as it won't be sold in America. Instead, Toyota displayed a restyled version of the car under its youth-oriented Scion brand.
MERCEDES-BENZ
Mercedes-Benz didn't even bother to have a press conference - unheard of for a major brand at a major motor show. But it did have a new car: the thunderous AMG version of the new ML-class crossover.
Billed as a showcase of "efficiency and performance", the ML 63 AMG boasts a 5.5-litre V8 bi-turbo engine that makes 386kW/700Nm, yet returns 11.8 litres per 100km in the Combined cycle.
The optional AMG performance package boosts output to 410kW/760Nm. A newly developed Active Curve System stabilises the car and reduces body roll.