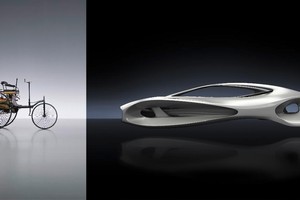 Consider this entry-level model from a new brand: it's most comfortable as transport for two, is powered by a 1-litre gasoline engine, looks suitable for low-speed city driving but is certainly up to the occasional out-of-town trip.
There's a lot about Karl Benz's Patent Motorwagen of 1886 - the vehicle regarded as the world's first real motor car, which celebrates its 125th birthday this year - that seems familiar to a modern audience.
And a lot that isn't. The Motorwagen's internal-combustion engine was a four-stroke but had just one cylinder and produced just 0.55kW. The car could hit 16km/h but was notoriously difficult to control because of its three-wheel configuration and upright handlebar-style steering system. It reportedly hit a wall during an early public demonstration.
But it was the first true car and Benz had the piece of paper to prove it. Others had created motorised carriages long before (usually powered by steam or electricity), but Benz was granted a patent for his gasoline-powered vehicle on January 29, 1886.
The Motorwagen was recognised by the patent office largely because it was designed from the ground up to generate its own motive power - even if Benz's passion for cycling resulted in features such as wire wheels and chain drive.
Benz had secured his place in history and beat Gottlieb Daimler to glory - Daimler was working on a four-wheeled vehicle at the same time. The two companies eventually joined forces in 1924, although there is no evidence that Benz and Daimler (who died in 1900) ever met.
In the same year that Benz patented his creation, he also invented the automotive facelift. An improved version, the Motorwagen Model 2, appeared almost immediately. The even better Model 3 (which had wooden wheels) was shown at the Paris Expo in 1887.
How early customers must have cursed their early-adopting tendencies. Or perhaps not, for the Motorwagen was not officially offered for sale until 1888. It was advertised as the Benz Patent Motorwagen.
Despite the advance it represented, the car still came second-best to a horse in two key respects. Gasoline was only available from a small number of pharmacies, where it was sold as a cleaning product. Second, the Motorwagen could not climb hills unaided because it had only one gear.
On August 5, 1888, Karl's wife, Bertha Benz, reportedly took the Motorwagen on a 106km journey from Mannheim to Pforzheim to visit her mother - the world's first long-distance car journey. In addition to having to locate pharmacies to keep the car fuelled, Team Benz repaired various technical and mechanical problems and reportedly invented the concept of brake lining, after Bertha ordered a shoemaker to nail leather on to the brake blocks for extra stopping power on long downhill stretches. She also made a strong recommendation to her husband about a hill-climbing gear, because what goes down too fast has to get up there first.
About 25 Motorwagens were built between 1886-93 - a small number, but nobody in the motor industry talks about actual numbers. What's important is that the Motorwagen achieved outstanding market share for its run.
Naturally, the Motorwagen has been the focus of much celebration from Mercedes-Benz this year as it celebrates 125 years of innovation.
Looking at the car as an art form has been a dominant theme: the Mercedes-Benz Museum hosted an exhibition called Art 125! from May until September, including automotive-related works such as Andy Warhol's series of paintings CARS, created 25 years ago on the 100th anniversary of the car.
Mercedes-Benz has created its own piece to celebrate the anniversary: a sculpture entitled Aesthetics 125, which is intended not only as a work of art but also as a design concept - a signal of the marque's future styling direction.
It was created using a process called "rapid-prototyping technology", in which digital design data is transferred straight on to a physical object using a variety of layered materials, with little waste.