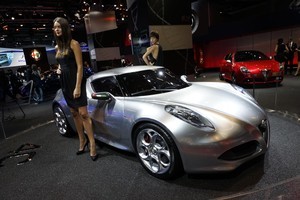 Alfa Romeo's 4C Concept at Frankfurt came with an updated paint scheme.
First unveiled at the Geneva Motor Show earlier this year in red, the mid-engined two-seater Porsche Cayman rival is unchanged apart from its "Fluid Metal" metallic silver paint scheme.
Measuring around 4000mm in length and with a wheelbase of less than 2400mm, the 150kW-plus concept showcases a new lightweight construction with a kerb weight of under 850kg, mainly through the use of carbon fibre and aluminium.
Power comes from the 1.75-litre turbocharged petrol engine used in the Giulietta, and features a twin dry-clutch transmission.
Coupled with the lightweight construction, the Concept points to a range of new, small efficient Fiat group sports cars over the coming years. Alfa says the car will feature its DNA technology, which controls throttle response, steering and suspension settings.
Expect a production version on sale in Europe next year.