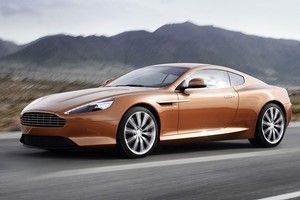 There seems to be a great deal of consternation about Aston Martin's decision to add another machine to its expanding range.
Purists were already gnashing teeth at the four-door Rapide, and the tiny Toyota iQ-based Cygnet really got the snide remarks flying around the more exclusive corners of cyberspace. The family Aston and the Toymartin aside, this has all been about the Virage.
If you look at the new V12-powered coupe the first thought is that it's not entirely dissimilar from its Vantage, DB9 and DBS stablemates. So the people asked: "Why?" Is there room for another Aston Martin with such similar stance, powerplant and overall attitude?
But there is. The Vantage has been around for a long time now, and currently acts as the "entry level" Aston. That entry level is still a good mortgage-worth, however.
The DB9 is further refined, quite well-mannered and, as one expects from a car like an Aston Martin, very tidy inside.
The DBS is closer to the pointy end of the driving scale, it's got a harder edge and more raucous manner than the Vantage or 9 and requires a far more attentive master - especially in the wet. It is the flagship, and the most recent Bond-mobile.
And snuggled between these beautiful machines is the Virage. As mentioned, if you look at the newcomer alone, the differences aren't obvious.
But park them all side-by-side and you quickly see them: the front on the Virage, with its nicely integrated splitter, and a swage line that gives the whole side a different look.
Aston has never really been about overstatement - and that's why these subtleties can hide in plain sight.
The Virage is a very impressive machine on paper but it's on New Zealand's less-than-stellar road surfaces that it has really proved its place in the range.
The DBS is a brilliant car to drive, but it is a little too hard-edged to cope with some of our bumpier rural "raceways".
On the other hand, the Virage - which is $60,000 cheaper at $360,000 - still features some of its sibling's tricks, like adaptive suspension, lightweight bonded extruded aluminium chassis construction, and a 6-litre V12 that sounds so rich and powerful that no one would dare take away its AAA rating.
It makes a solid 365kW with 570Nm of torque, thrown groundward via a rear-mounted ZF transmission with an alloy torque tube and carbon fibre prop shaft - and transferred to terra firma through huge 11-inch wide, 20-inch rear rims wrapped in 295/30 Pirelli P Zeros. Your local tyre shop owner is already rubbing his hands together, but fear not, the front tyres are mere 245/35s.
The transmission uses "Tiptronic 2" - buttons on the dash engage Park, Drive, and so on; flappy paddles mounted behind the steering wheel are used to go up or down through the six-speed gearbox. Unlike the rest of the Aston Martin range, bar the Rapide, there are no manual options for the Virage.
The one criticism of this system is obvious when you're pushing out through a corner - and this is a rear-drive monster that's more than happy to try and shake its tailfeather - the paddles are too short to be able to hook another gear until the leathery steering wheel is nearly straight again. Not an issue if you're not going to get too committed to driving at pace, but if you're buying a best-of-British GT like this, it's almost criminal not to get almost criminal at least occasionally.
The adaptive suspension set-up has been lifted from the DBS, which has normal and sport modes with five automatically self-sorting damper settings each.
Set in the normal soft-ish mode, the car is extremely compliant on our general road surfaces, keep pushing the button and it goes from sharp and responsive to super-firm, although not quite to the kidney-threatening levels of its counterpart.
Stopping this 1785kg coupe is incredibly easy - courtesy of one of its tastiest factory-standard features. While some companies charge $20,000 and up for carbon ceramic brakes as option-only additions, the Virage is fitted with massive 398mm ventilated carbon ceramic fronts, clamped by six-pot calipers and 360mm discs on the back with four-pots.
Add to this the usual host of handy helpers - ABS, EBD (electronic brake force distribution) and traction control, and the little old lady can continue crossing the road in safety. And if you need to shed the ABS for circuit satisfaction, there's an easily selectable "Track" mode.
Creature comforts are what you'd expect with a high-end luxury grand tourer - but taken to a very high level.
Standard in the car is a Bang and Olufsen stereo system with tweeters that rise from the dash when you turn the tunes on.
The sat-nav system sits flush in the piano black, genuine wood dash insert, right at eye height. Push the button and it opens smoothly to reveal the Garmin-powered navigation screen. Both front seats are electrically controlled with aluminium switch gear close at hand on the transmission tunnel.
The rear seats, on the other hand, have very little purpose. There's a lot to be said for usable 2+2s, but most, including this one, would require the passenger to move their seat as far forward as possible - nearing the aeroplane crash position, and the rear passenger would need to have no legs.
So does this lovingly stitched leather and aluminium machine have a place in the range between the DBS and DB9? Without a doubt.
It's compliant and fast, eats up New Zealand's unique roading conditions without drama, and can be dialled up to behave like a stroppy hooligan if the need arises.