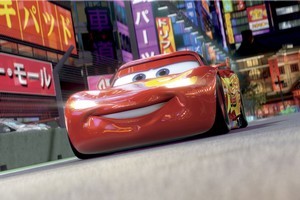 A British writer who says the animated movie Cars was based on his screenplay about a Northland man's real-life adventures has failed in his bid to sue one of the world's biggest film-makers.
Jake Mandeville-Anthony took Walt Disney and Pixar Animation to court for breach of copyright, alleging they stole his ideas to make Cars and its sequel Cars 2.
Mr Mandeville-Anthony wrote a screenplay called Cookie & Co about 20 years ago, inspired by the adventures of Kerikeri man Michael Perkins, who won a London-to-Sydney car race in 1988 in a vintage Vauxhall Malvern he called Cookie. A second version, called Cars, included a sample screenplay and a series of animated car character descriptions and sketches.
Mr Mandeville-Anthony said he sent copies to Disney and met a Lucasfilm executive, who in 2005 became general manager at Pixar. The following year Disney/Pixar brought out Cars and raked in $570 million.
Mr Perkins said the similarities between Mr Mandeville-Anthony's work and the Cars movie were "too much of a coincidence".
"When Cars came out in 2006, Jake was completely blown away by it. They had taken the whole concept," he said.
Both the movie and the British writer's screenplay are said to feature a character named Stanley, based on a Model T Ford, lead characters modelled on an Aston-Martin sports car, broken-down truck characters, doctors as authority figures, Italians and wealthy business cars past their prime.
However, the US courts disagreed, a California judge last week dismissing Mr Mandeville-Anthony's lawsuit. Judge Valerie Baker Fairbank ruled the works were "not substantially similar as a matter of law". She also said the breach of contract claim fell outside the two-year statute of limitations.
TIMELINE
1988: Kerikeri man Michael Perkins wins an epic, six-month London-to-Sydney car race in a vintage Vauxhall called Cookie. 1990s: British writer Jake Mandeville-Anthony pens a screenplay called Cookie & Co, inspired by Mr Perkins' adventures. Taking the idea a step further, he also writes a screenplay called Cars, featuring 46 animated car characters in a race around the world.
1993: Mr Mandeville-Anthony sends his idea to Disney and meets Lucasfilm executive Jim Morris to discuss the Cars screenplay. Mr Morris turns down the idea.
2005: Mr Morris is appointed general manager at Pixar.
2006: Pixar brings out the animated movie Cars and makes $570 million.
2011 (March): Mr Mandeville-Anthony applies for a court injunction in the US to stop the release of Cars 2. He also sues Pixar and parent company Disney for copyright infringement and breach of implied contract, pointing out a raft of similarities between the movie and his work.
2011 (June): Cars 2 is released.
2011 (August): A judge in California dismisses Mr Mandeville-Anthony's lawsuit.
For more articles from this region, go to Northern Advocate