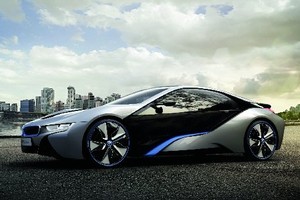 Some 250 journalists and the entire BMW board gathered in Frankfurt to reveal the electric-powered i3 hatch and i8 sportster plug-in hybrid, concepts that herald a new wave of BMWs to go on sale from 2013.
That a car can use electric propulsion is no longer headline news, nor is some of the technology BMW proudly announced. The ability to set your car to heat or cool and deliver a fully charged battery at a set time using your mobile is already available with Nissan's electric Leaf in some markets.
But there was cutting-edge news nonetheless, like BMW's commitment to make these vehicles eco-friendly from design, to recycling at the end of their lives, rather than focusing purely on eco-friendly running.
There is also the revolutionary way carbon-reinforced plastic (CFRP) is used to cut complexity and trim 250 to 350kg from the car, thus delivering competitive range and performance while using fewer batteries, which further cuts weight. The extra cost of CFRP is then offset by the lower battery cost, a win-win situation.
Dr Klaus Draeger, member of BMW's board of management, says these electric cars employ two modules - a platform with the suspension, electric motor driving the rear wheels, and a floor of batteries apparently protected in crashes by a metal frame - BMW was cagey about details, but did say a five-star crash test rating will be gained.
Above it there's the passenger module, the two-stage build designed to keep weight and complexity down, and thus ease production of a range of models with different sizes and uses.
The carbon passenger shell uses 40 parts, glued and mounted via four bolts, instead of the 150 to 200 metal pressings of a conventional vehicle. The glass and thermoplastic body then hangs off that - a lightweight and practical solution.
In an impact, the lower module will absorb much of the crash force, and instead of buckling a wide area of car, the upper carbon module will tend to break around the impact. Cleaning up the edges, then gluing a shape-matched insert is all that's required to mend it, says the company.
From design to scrap, these cars cut the energy required by 50 per cent compared to a conventional vehicle, and water use by 70 per cent, says BMW. In their lifetime they'll use 66 per cent of the resources of BMW's current eco-leader, the 118d, and cut its CO2 footprint by one third, more if the cars are charged with renewable energy. Sure, the i3's development was energy-heavy, but it'll tip the balance before it hits 50,000km.