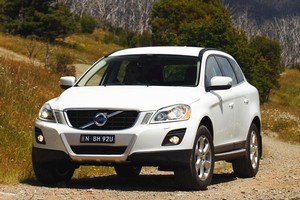 Volvo's City Safety system has cut low-speed commuter crashes in the United States by 25 per cent, says an insurance group.
The study of accident claims found that Volvos equipped with City Safety were less likely to be involved in low-speed crashes than comparable vehicles without the system.
The Highway Loss Data Institute - part of the Insurance Institute for Highway Safety, funded by the US automobile insurance industry - studied claims under property damage liability coverage, the insurance that pays for damage to vehicles hit by an at-fault driver.
It compared claims for the 2009-10 XC60 with two groups: 2009-10 midsize luxury SUVs and other 2009-10 Volvo models.
It found that there were 27 per cent fewer claims for the XC60 than other midsize SUVs.
City Safety is designed to stop rear-end crashes in commuter traffic, below 30km/h. It automatically brakes the car if the driver fails to react in time when the vehicle in front slows down or stops - or if the car is approaching a stationary object too fast.
If the relative speed difference between the two vehicles is below 15km/h, the collision can be avoided altogether.
If the speed difference is between 15 and 30km/h, the speed of impact is reduced to minimise the effects of the accident.
In New Zealand, City Safety is standard on all XC60 models as well as the S60 sedan and V60 wagon.
"This is our first real-world look at an advanced crash avoidance technology, and the findings are encouraging," said Adrian Lund, president of the institute.
"The pattern of results strongly indicates that City Safety is preventing low-speed crashes and reducing insurance costs.
"That's great news for consumers. As people grow more aware of the risks of distracted driving, crash avoidance systems like this one can help ensure that a momentary lapse of attention during a congested commute doesn't result in a crash.
"Crash avoidance technology has a lot of promise," Lund said. "We're doing more research to see if other systems live up to their billing."