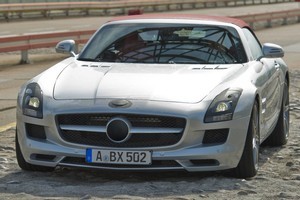 Luxury Germans BMW and Mercedes-Benz parent Daimler have the same goal: to ramp up production of carbon fibre-reinforced plastic (CRP) parts over the next two years on the way to mass use of the high-tech material.
Both companies took the first step last year. BMW formed a joint venture with German specialist the SGL Group, and Daimler did the same with Japan's Toray Industries, the world's largest producer of carbon fibre.
BMW will use CRP in the bodyshell of its small i3 electric car, due to go into production in 2013. Daimler has said it will use CRP to help reduce by 10 per cent the weight of bodyshells across its range of vehicles.
CRP has a high strength-to-weight ratio and good rigidity, vital ingredients in a car's protective shell. The motorsport industry has used it for some time.
It has developed methods to mould CRP to suit: making it strong in load-bearing areas, but weak in areas under little or no load; or using special weaves to make it strong overall.
BMW will produce about 30,000 i3s a year, although it has declined to confirm likely volume. Joerg Pohlman, managing director of the joint venture with SGL Group, told Automotive News Europe that BMW can make tens of thousands of vehicles with CRP components.
"We have developed a very flexible production plan," said Pohlman. "We are prepared to manufacture many more cars if demand is higher than our conservative estimate."
To cut costs and allow mass production, the partners are working to perfect a process called resin transfer moulding.
The carbon fibre fabric is placed in a mould, and resin is injected under high pressure. The process once took 20 minutes; now it takes 10. Components were once handled and cut by hand; now robots do the work.
The robots will help BMW save money. A kilogram of carbon fibre now costs only a third as much as it did when BMW used it in the roof of the limited-edition M3 CSL coupe in 2004.