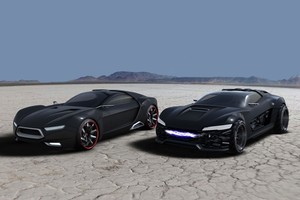 Ford has designed two modern remakes of the 1973 Ford XB Falcon to celebrate the fourth edition of the classic Australian action movie, Mad Max.
The modern sequel is called Fury Road and clay models of the XB Falcon have appeared at the Australian International Motor Show in Melbourne, part of a Ford promotion with motoring magazine TopGear Australia.
Showgoers were asked which of the two 40 per cent-size models should make it to final. The poll has been extended to the end of this month.
More than 10,000 car fans have already voted to choose the next Mad Max Interceptor, although their choice won't actually appear in the film.
Diehard fans around the world have welcomed the latest designs, even though it is more than 30 years since director George Miller's original Mad Max movie, starring Mel Gibson and a jet black 1973 XB Falcon GT coupe-based Interceptor, hit screens.
Ford Australia's design director, Chris Svensson, said the project had been a spectacular success.
"Our entire team was very excited to be involved in this after-hours project - even those too young to remember the first Mad Max movie," he said. "It has given the team scope to really extend their imaginations and come up with some exciting new ideas.
"The team has been able to get quite creative because the Mad Max car is not constrained by the normal design parameters imposed by a real-world vehicle."
The two clay models weigh about 130kg and are finished with detailing and trim highlights, including real-life graphics.
The two concepts - by designers Nima Nourian and Simon Brook - are equipped with state-of-the-art weapons like "tasers" mounted in the front of the cars to zap bad guys on bikes.
Other futuristic features include a titanium-lined body shell to interrupt police scanners and wheels with extendable spikes to shred enemy vehicles.
The project has gained a strong media following in the United States, Spain, Italy, France and India.
* To check out the Mad Max "Next Generation" project follow the links to vote at: www.topgear.com/au