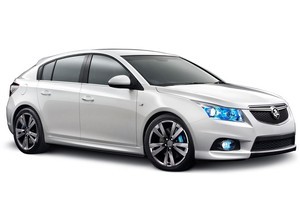 Holden is more than the Commodore car company, with three new offerings at the Australian International Motor Show underlining its global capabilities, managing director Mike Devereux says.
The company will reveal the new Barina, the Cruze hatch and the Colorado four-wheel-drive when the show opens at the Melbourne Convention and Exhibition Centre today.
Mr Devereux said the new models highlighted how Holden's design and engineering teams were continually working on a range of products, for both the domestic and international markets.
"Holden is a lot more than one car line," he said.
"All of the vehicles unveiled at the show highlight that we don't just sell cars in Australia.
"We invest hundreds of millions of dollars a year in our operations and people to make Holden one of the most important design and engineering centres in the General Motors (GM) world."
Mr Devereux's comments came as a senior GM official also talked up the future of Holden's manufacturing operations in Australia.
Robert Ferguson, GM vice president for global public policy, said Holden was vitally important to the car giant.
"We are optimistic about the Australian marketplace and the products produced there," Mr Ferguson said after meeting federal Industry Minister Kim Carr in the US this week.
"The research and engineering done in Australia is benefiting the company worldwide."
Holden expects the new Colorado to be the star of its motor show stand ahead of the car's launch in 2012.
Mr Devereux said the show car offered "more than a hint" of what buyers could expect next year.
The Barina and the Cruze Hatch are also likely to draw attention with sales scheduled to start later this year.
The Cruze hatch will be built alongside the sedan model in Adelaide which Mr Devereux said had been a stand-out success for the company, leading its segment last month.
"So we can't wait to see how customers in a hatch market like Australia respond to the car," he said.
"We think the hatch will hit a sweet spot with buyers looking for great design, versatility and practicality."
Mr Devereux said Holden also had plans for more segment-leading models next year, including the electric-powered Volt and the new mid-sized Malibu.
- AAP