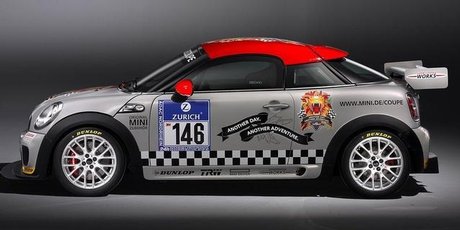 Mini gave its new two-seat Coupe the full racing treatment at the Nurburgring 24-hour endurance race last weekend.
The stripped-out racer, called the Mini John Cooper Works Coupe Endurance, took on Germany's famous 21km circuit against several factory-tuned models, including Volkswagen's GTi Golf24.
The Coupe racer is the most powerful Mini yet, its 1.6-litre turbocharged four-cylinder engine delivering 184kW and 330Nm - noticeably more than the hottest road-going Mini, the 155kW/260Nm JCW-badged hatch.
Instead of a six-speed manual or conventional auto, the Coupe Endurance sends its power to the front wheels via a six-speed sequential gearbox and electronic locking differential.
Top speed is claimed to be in excess of 240km/h, though the JCW hatch can reach 238km/h.
Mini said it took the Cooper's characteristic sharp handling to a new level with stiffer, adjustable race suspension for improved roadholding to withstand the punishing circuit.
The Mini racer weighs just 965kg and benefits from deep front and rear carbon-fibre splitters and an adjustable rear wing to generate downforce and stability.
The race cockpit features a full roll-cage welded in the body and a single sports bucket seat with a six-point race harness and a Formula One-style Hans (Head And Neck Support) system.
Other interior features include a racing steering wheel wrapped in suede and a data display with gearshift light. The car also benefits from ventilated and cross-drilled AP Racing brakes, a race-tuned electronic stability-control system and a long-range 100km fuel tank.
The appearance of the Endurance model was timed to coincide with the worldwide unveiling of the "helmeted-roofed" Mini Coupe, which the carmaker claims will be the best-handling Mini ever when it goes on sale in New Zealand in February or March next year.
The Coupe borrows the regular Mini's suspension but benefits from a lower centre of gravity that will help limit body roll and increase agility.
At the rear, a spoiler rises at speeds above 80km/h to increase downforce - a first for the brand.
Optional sports suspension is available with stiffer anti-roll bars and firmer dampers, while a rock-hard JCW set-up pack can also be specified.
This drops the ride height by 10mm and firms up the anti-roll bars and dampers even further.
With a "helmet" roof grafted on top of the Mini Convertible's body, the two-seater Coupe looks unlike anything else on the road.
Its "three-box" shape means there is room for a 280-litre load bay - 120litres up on the normal Mini - plus there are extra storage bins behind the seats and a hatch for posting longer objects through.
Though the roofline is 29mm lower than the standard car's, scallops in the headlining ensure tall occupants will fit in comfortably, says Mini.