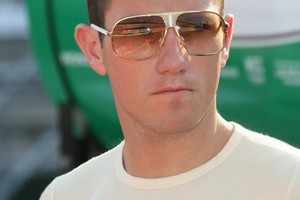 New Zealand racing driver Wade Cunningham was back home on a fly-ing visit this week after his first outing of the year in the IndyCar IZOD series race at the Texas Motor Speedway.
Cunningham was circulating nicely in eighth spot in race one and had just passed lapped driver Charlie Kimball, who decided to lunge down inside of the Kiwi.
Kimball got it all wrong and pinged Cunningham into the wall, ending both their races there and then.
"Things were looking good for the race, as in qualifying; we were fastest for a quite awhile until the really good guys came out," said Cunningham. "We were running really well in eighth and almost lapped half the field, and had passed Charlie Kimball and was running in formation.
"I don't know what he was thinking. He kind of threw it on the inside of me, got huge understeer and steered up into my left rear and took us both out of the race."
Because of the weird nature of having two races on one day, and the grid line-up for the second race was decided on the turn of a tyre, Cunningham got a second chance to race.
He was one of the first drivers on to the stage and his pick revealed P2, so he started on the front row next to Tony Kannan.
But with his race car too badly damaged to be repaired in time for the start of race two, Cunningham had to leap into a spare car that was not set up for the Texas speedway, and so it was bound to be a struggle from the get-go.
"The team had a spare car but it was in short oval trim and we knew it was going to be slower.
"It also had Alex Tagliani's set-up on it and I had never driven it. It was a really tough race and the car wasn't handling well."
As an interesting aside, the car in which Cunningham was circulating comfortably in the top10 was the Indy 500-winning car of Dan Wheldon. And, believe it or not, it wasn't his first-choice car.
"It wasn't the original car that I wanted to run. It was going to be Townsend Bell's Indy car but he hit the wall pretty hard and the car couldn't be repaired in time for Texas ... It was a quicker car."
Cunningham is one of only a few drivers competing at the elite level who has won a Karting World Championship title (in 2003). In doing so, he became only the second New Zealander to win an official FIA world championship. The first was Denny Hulme, who won his Formula One title in 1967.
Heading across to the United States in 2005, Cunningham scored a drive in Indy Lights with Brian Stewart Racing and promptly went on to win the title. In 2006, he became the first New Zealander to win a Firestone Freedom 100 at the Indianapolis Motor Speedway. He went on to win another three and was the only driver to do so.
His move up to the main game has, at times, been difficult because of a lack of funding. This year, he has secured three drives and is hopeful of getting a couple more.
His transition to the top tier of IndyCar racing has been seamless, and he's not too concerned about the step up from an Indy Light car to a full-blown IRL car. "The same principles apply. It's just there is more to do in an IndyCar. You have more tools in the car, the races are longer and you have more pitstops."
Cunningham will be in action in a Creatherm-Sam Schmidt Motorsports car at Kentucky on October 2 and will spend two weeks in Las Vegas.
The stats
Indy Lights Series
Starts -56
Wins - 7 - including three Indianapolis
Freedom 100 races
Poles - 9
Championship titles
* 2001 Asia-Pacific Championship
* 2003 World Karting Championship
* 2005 Indy Lights Series
Find out more