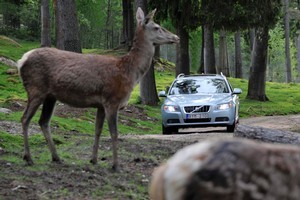 Swedes extend their collision-avoidance technology to alert drivers to big beasts loose on rural roads
Safety pioneer Volvo is developing a system to help drivers avoid collisions with wildlife, which it hopes to bring to market within a few years.
The programme is an evolution of Volvo's Pedestrian Detection system, available as an option on the S60 sedan and V60 station wagon in New Zealand.
However, unlike the pedestrian programme, the animal-avoidance system will not be confined to low-speed, urban areas because rural roads with faster speed limits are the most likely place to come across large wildlife.
The Swedish carmaker is programming software to recognise large animals - such as cows and horses - which pose the biggest risk of injury on impact.
The system uses an infra-red camera to scan the road ahead, alerting the driver with an audible signal when an animal is detected.
If the driver does not react to the audible warning, the brakes will be applied automatically.
The use of an infra-red camera will also allow it to function at dusk and nightfall, when wildlife is most active.
Volvo said the big challenge facing its engineers is "teaching" the system to recognise different animals in terms of their size, shape and behaviour and to gauge the appropriate response to each situation.
An engineering team from the Scandinavian manufacturer recently spent the night at a safari park logging film sequences of moose, red deer and fallow deer feeding along a trail.
United States Insurance Institute for Highway Safety figures show that 2499 people died in animal-related road accidents on US roads from 1993 to 2007.