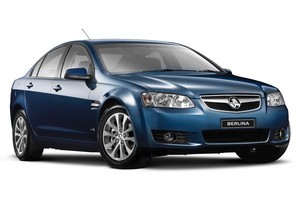 Holden will use aluminium body panels in its next-generation VF Commodore to cut weight and help improve fuel consumption.
A switch to electric-powered steering and improved aerodynamics are also believed to be among measures to cut the car's thirst by about 7 per cent.
Holden will be the first Australian carmaker to use aluminium in a move that is expected to have a flow-on effect across its range of models, specifically the medium Cruze sedan and hatchback.
The new programme will cost Holden upwards of $200 million, of which about $50 million will be paid by the Australian Federal Government.
GM Holden chairman and managing director Mike Devereux said the co-investment funding was critical for the Australian automotive industry to compete globally and to continue to bring affordable new technologies and innovations to locally made cars like the Commodore.
"The assistance from the Federal Government will enable Holden to bring Australian-made firsts in fuel-efficiency and weight saving to market and to secure local jobs in the broader automotive industry," he said.
Holden said a 7 per cent cut would save around 3.6 million litres of fuel and reduce CO2 emissions from the Commodore fleet in Australia by around 9000 tonnes a year.
It would cut the V6 Commodore's claimed town-and-around fuel consumption of upwards of 9 litres/100km to 8.4 litres or so.
Devereux said the carmaker wanted to make sure the next generation Commodore would continue to be relevant to Australian and New Zealand consumers.
He said the grant would be matched on a three-dollar to one-dollar basis by Holden in engineering the new car and upgrading production facilities at its Adelaide plant to produce the aluminium panels.
"We will be using that money to bring a number of innovations that are going to drive pretty significant fuel savings and carbon emission reductions," said Devereux o.
"We are talking about aluminium panels on the car and some significant aero work on the vehicle as well.
"We are not actually announcing for competitive reasons much beyond that, but it is a pretty exciting day because it keeps the story going on the Commodore's future."
Devereux conceded that aluminium was a more difficult material than traditional steel for car panels, but said Holden already had a good handle on the technology.
"Aluminium is a pretty high-tech material to use on body panels," he said.
"It does obviously give you significant savings in mass.
"It is difficult to stamp - it isn't easy. So the shapes are difficult, but we have got a really good engineering team that has it under control."
At least 30 car companies are already using aluminium panels on cars to cut weight, with savings of up to 50 per cent on comparable steel panels, although they are mostly applied to high-end vehicles that can cope with the extra cost.
Holden parent General Motors is using aluminium panels on some of its US brands. The Cadillac CTS and Seville have aluminium bonnets; the Chevrolet Tahoe SUV uses the lightweight metal on its tailgates.
Most of the new VF Commodore's body will be made of steel; aluminium is expected to be used on the bonnet and boot lid.
The Holden Commodore has been the best-selling car in Australia for 15 years, although it has been knocked off its perch in some months by the Toyota Corolla and Toyota HiLux.