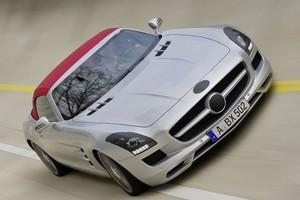 The drop-top Mercedes-Benz SLS AMG will land in New Zealand next year and is expected to be slightly more expensive than the existing Gullwing coupe's $450,000 tag.
Mercedes-Benz has unveiled the first official images of the SLS AMG Roadster, which will be seen in public for the first time at the Frankfurt motor show in September.
The luxury carmaker says both the convertible and hardtop Gullwing were created in parallel, meaning the Roadster had been engineered from the outset to incorporate the structural integrity and torsional rigidity required of a convertible. As a consequence, the drop-top's bodyshell weighs just 2kg more than the Coupe's 241kg.
Mercedes-AMG says the Roadster's development programme focused on chassis stiffness, driving dynamics, the soft-top and noise, vibration and harshness.
The Roadster's roof was tested 20,000 times on a stationary test rig and 2500 times on the move in all conditions. It also underwent an endurance trial - including 10,000km at the Nurburgring circuit and 10,000km in city traffic - to simulate the roof's performance over the vehicle's entire life cycle.
Besides the absence of the coupe's roof-hinged doors, which pay homage to the original 300SL "Gullwing" from 1954, the Roadster continues with exaggerated proportions including an ultra-long bonnet, wheel arch-filling alloys and a stubby rear end to indicate its Grand Touring intentions. The lightweight roof is made from special three-layer fabric and is supported by a magnesium, aluminium and steel folding mechanism, housed behind the seats in a space-saving Z-formation. Mercedes-Benz claims the interior is well insulated from wind noise, even while travelling at the SLS's top speed of 317km/h. The roof is capable of dropping in 11sec, and at speeds of up to 50km/h.
Under the bonnet is the same 6.2-litre naturally aspirated dry-sump V8 engine as the Coupe. It delivers 420kW of power and 650Nm of torque and is mated to AMG's seven-speed automatic transmission, which features a wet start-up clutch instead of a conventional torque converter.
Acceleration figures have yet to be announced but expect the Roadster to come close to or match the Coupe's 0-100km/h time of 3.8sec.