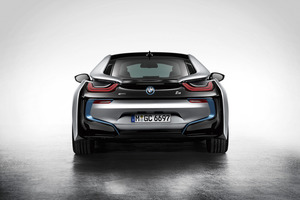 UK motoring journalist Jethro Bovingdon (of Evo mag, formerly known for smacking up the wheel of a Ferrari FF on video for Car mag) recently tweeted something that, once you see it, you will never be able to un-see it.
The picture above is of the rear of the fantastic new BMW i8, a futuristic hybrid sportscar and one of the most exciting-looking cars to appear on the planet for a while now.
But take a closer look at the rear, particularly the second set of lights lower down below the centre line, either side of the number plate and you will perhaps notice that the two-tone colour scheme makes it look very much like the i8 has enveloped a Porsche 911. Or, perhaps, is giving birth to one.
Now every time you see the rear of a BMW i8, you will not be able to not see the rear of a 911 poking out of it. You're welcome.
The world's cutest truckie
Hamsters are little furry rats without tails that spend their time running in wheels and
generally NOT driving trucks, but Volvo recently decided to change all that.
To show just how awesome their steering system is, Volvo set up a demonstration at a
quarry with a makeshift hamster wheel attached to the steering wheel of a 13-tonne truck.
The hamster - rather awesomely named Charlie - would then ''steer'' the truck up the frankly terrifying road out of the quarry (complete with sheer cliffs either side ... ) by being tempted into the correct direction by the use of a juicy carrot.
The resulting video on YouTube is presented with a wonderfully straight-faced Swedish approach, as if they get rodents to do all their truck testing, and features the utterly brilliant line ''the hamster cannot look out of the window, so we will have the driver, Seon, guide the hamster with a carrot''.
Forget this self-driving car nonsense currently being touted as the future - hamster-guided cars are what we really want.
We are the world
Some people have difficult names and spend their lives telling people how to spell them. But they have nothing on a Hawaiian woman who is engaged in a battle with the state just to get her name to fit on her driver's licence. Janice Keihanaikukauakahihuliheekahaunaele has a colossal 35 characters in her last name, but the Hawaiian licence only has room for that many for the entire name. Officials in Hawaii say they're working on fixing the problem, and by the end of the year cards will allow 40 characters for first and last names and 35 characters for middle names. Apparently it is a more common problem in Hawaii than you would imagine ...
A man in Wales was arrested after police say he stripped naked and ''simulated sex'' with a Land Rover Discovery. Daniel Cooper, 24, claims he doesn't remember anything of the night, having had a wee bit too much to drink, but at least his friends were supportive,
with one of them quoted as saying: ''He is not a pretty sight when naked. We all felt sorry for the Land Rover and hope it wasn't offended.''
Interesting plan by Honda? Surely not
A vague rumour doing the rounds is that Honda is considering a baby S2000 to rival the Mazda MX-5 and Toyota 86/Subaru BRZ.
Citing unnamed sources within Honda, US website GTChannel is reporting the possibility of a small, lightweight, low-cost roadster that could be named the S1500.
Under the bonnet would be a VTEC engine, displacing anywhere from 1.3 to 1.5 litres, with the website proposing the idea that the 1.5-litre, 100kW power plant from the Honda Jazz could make its way into the new roadster. Weight would be in the area of 900kg, which would make 100kW fairly lively. Rear-wheel drive would be essential, although the suggestion that a five-speed manual will be on offer is disappointing. Albeit in keeping with Honda's current transmission thinking.
As we say, it is very vague and unconfirmed, but we really do hope the company that has spent the last decade ridding itself of anything vaguely interesting in its line-up will actually give enthusiasts something to cheer about again.
History for sale
While some people dream of owning a historically significant racing car, it is rare indeed to be presented with the chance to buy an entire race team of historical significance.
But that's just what is going under the hammer on December 1 at Bonham's in London, as noted collector Dick Skipworth puts his collection of eight Ecurie Ecosse vehicles up for sale.
Formed by Scottish businessman and amateur racing driver David Murray in 1951, Ecurie
Ecosse scored 68 victories in 10 seasons, including two Le Mans wins, both achieved with its D-Type Jaguars co-driven by Ron Flockhart, Ninian Sanderson and Ivor Bueb.
The team quickly became legendary and was noted for its distinctive and iconic racing livery that was derived from the blue and white of the Scottish flag.
The collection going under the hammer features some of the most mouth-watering cars of the era, including the famous (and fully restored) Ecurie Ecosse 1959 Commer transporter that can carry three cars, features an on-board workshop and was a much-prized Corgi scale model to generations of children'.
The stunning collection includes several classic racing Jags: a 1952 XK120, '53 C-Type, '56 D-Type and '59 Tojeiro-Jaguar. There's also a 1960 Cooper T49, '61 Austin-Healey, '62 Tojeiro-Buick and the iconic transporter.
Number Crunching
2695 MILLIMETRES The length of the shortest current production car, Smart ForTwo.
1340 MILLIMETRES The length of the shortest production car ever built, Peel P50.
1475 MILLIMETRES The width of the narrowest current production car, the Kei.
990 MILLIMETRES The width of the narrowest production car ever built, Peel P50.