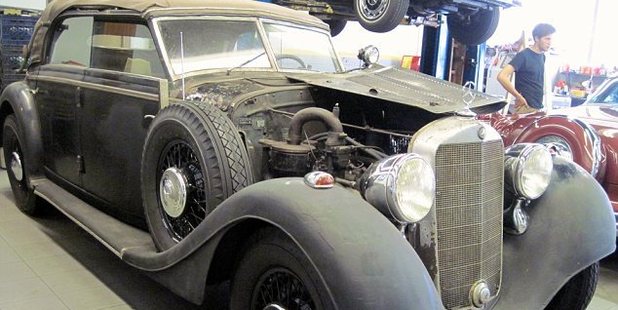 When a car dealer in New Jersey called Mercedes-Benz to order parts for a vintage car he was repairing, the maker asked for the vehicle's serial number.
Zenop Tuncer gave it, and was shocked to hear the reply: "That's Hitler's car."
The 1942 Mercedes 320 Cabriolet D was part of a fleet built for senior officers of the Third Reich during World War II.
While the model which ended up being repaired in Edgewater, New Jersey, was probably not flashy enough to be driven by Hitler himself, it is likely to have belonged to one of his senior generals.
Tuncer found the car while searching on eBay on behalf of a customer, property developer Fred Daibes, according to the New York Times.
Daibes bought it for around US$180,000 ($227,600) - but when he saw the unusual four-door convertible, he assumed it must be a fake.
But Mercedes-Benz confirmed that the bizarre car was genuine, and was one of eight made for Nazi officials.
The best-known of the modified Mercedes 320s was the one driven by Gestapo chief Reinhard Heydrich, which was written off after being struck by a bomb during a failed assassination attempt.
Heydrich was later killed by Czech patriots in Prague.
An expert from Mercedes-Benz headquarters in Germany said that the car would almost certainly not have been used by Hitler, who drove a "top of the line" model 770.
But Tuncer found signs of the vehicle's dark past - - a patch on the mudguard was apparently left when the aerial that flew the Nazi flag was removed from the car.
The Mercedes-Benz made its way to New Jersey via Chicago thanks to an enterprising American sailor, according to Daibes.
The Navy veteran apparently painted the car black to enable him to smuggle it across the Atlantic.
He then kept it in his basement for decades before his grandson sold it to Daibes.
The vehicle still runs well, though its engine generates only 60kW, giving it a top speed of 130km/h.
Its new owner has turned down an offer of US$1.5 million ($1.8m) for it - and says he plans to hang on to it.