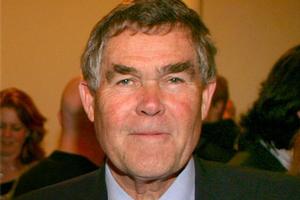 Newspapers are on the rebound, says publisher Michael Muir in an upbeat assessment of the New Zealand media market.
"Our circulations and readerships are largely stable, advertising is picking up again and we are on the verge of exciting new media developments," he said after the Newspaper Publishers' Association (NPA) 90th annual meeting in Wellington.
He said the oft repeated predictions of the demise of newspapers were ill founded.
"There's no doubt 2009 was a really tough year, not just for newspapers and the rest of the media, but for all businesses," Mr Muir, NPA president and Gisborne Herald publisher, said.
"Even so, newspapers maintained their dominance in the advertising market, drawing $700 million of the total $2 billion.
"While the recovery is still patchy, this year we are seeing volumes increasing slightly. The Newspaper Advertising Bureau, a one-stop shop for agencies wanting to place material for clients, believes member newspaper bookings will lift by 5 per cent in 2010.
"On the editorial front we have continued to do what our industry does best - good, honest news breaking, entertaining writing and connecting with our readers, no matter how that content is delivered."
While major news events were reported first on publisher websites, the real context of the news and how it affected the lives of New Zealanders was explained in newspapers, Mr Muir said.
"Newspaper companies are effectively reinventing themselves in the digital age and are now providing a compelling, integrated experience for readers and advertisers alike."
Independent research, carried out by Celcius and commissioned by The Newspaper Works, Australia's counterpart to the New Zealand Newspaper Publishers' Association, found consuming print and digital news from major publishers was an "enriching experience" for 44 per cent of respondents. Free-to-air television recorded just 14 per cent in this score.
"There is no reason to assume the reaction would be any different in this country," Mr Muir said.
"The Celcius findings support a Trust in Advertising study by ACNielsen a year earlier that found editorial, with 67 per cent, and print advertising, with 60 per cent, were more trusted than any other form of communication apart from personal recommendation.
"Such findings are immensely reassuring to us and are not lost on advertisers and readers.
"What we are seeing with the explosion of the internet is a crying need to distil the blizzard of information and opinions, much of it unreliable, to make some sense of it."
The newspaper model was changing quite dramatically and publishers were searching for the optimum model, Mr Muir said, citing moves led by Rupert Murdoch to charge for online content.
"It's not clear how that will pan out and there are a lot of different options being considered but one thing all publishers agree on is that news is not free.
"Credible, professional journalism comes at a cost.
"There are a whole new range of consumer technologies about to hit - from the iPhone to Skiff e-reader to iPad and Amazon Kindle to Blackberry and Google Nexus - and they have the potential to provide publishing formats for mainstream journalism and new revenue streams."
Mr Muir said the new landscape would make the national news agency, the New Zealand Press Association, more of a mainstay of newsrooms as individual titles build on that core service with more specialised coverage and more local coverage, where they are virtually unchallenged.
- NZPA