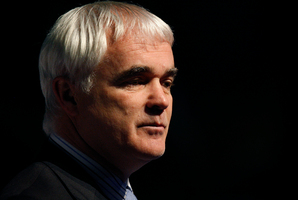 Fund managers gave an initial thumbs up to Telecom's appointment of Auckland International Airport chief executive Simon Moutter as its new chief executive and managing director.
Telecom's appointment of Moutter, who has previously held senior roles at Telecom and Powerco, ended weeks of speculation as to who would replace the outgoing CEO, Paul Reynolds, who flagged his intention to leave last August.
Moutter takes over on September 1.
Fund managers said Moutter had a name for efficiency and was not afraid to pursue growth.
In 2010, AIA bought a 24.5 per cent stake in North Queensland Airport, which operates the Cairns an Mackay Airports in Queensland, for A$132m.
In the same year, AIA controversially bought a one quarter stake Queenstown Airport for $27.7m.
Matt Goodson, portfolio manager at BT Funds Management, said Moutter's departure from AIA, would leave a gap at the airport company.
"From the outside looking in, he has really turned up the efficiency screws there, so it's a positive hire for Telecom," Goodson said.
He said the acquisitions undertaken by AIA showed Moutter was "not afraid to pursue areas of growth".
Shane Solly, portfolio manager at Mint Asset Management said Moutter will have picked up useful skills at AIA, where he dealt with developing new trade routes and improving customer relations.
"His time at AIA will be very complimentary to his new role at Telecom," he told APNZ.
Forsyth Barr analyst Guy Hallwright was a little more circumspect.
"Simon had a good reputation at Telecom earlier but beyond that, we will see," he said.
The appointment ends speculation that the head Gen-I, Chris Quin, would fill Reynolds' shoes.
Telecom chairman Mark Verbiest said in a statement that Moutter was instrumental in the transformation of Telecom in the early 2000s.
At the time, Telecom was pushing strongly into the information technology services sector, expanding Gen-i, turning around Telecom mobile, and rolling out national broadband services.
Moutter said he was looking forward to returning to the telecommunications industry now that Telecom would be subject to significantly less regulation.
He will receive a base salary of $1.35m, plus incentive payments. There is an annual short term performance incentive of $750,000 in cash Moutter meets the targets set by the board. He will also receive shares to a value of $600,000 for achievement of those targets.
The total value of the incentive payment and share grant may increase if Moutter significantly exceeds the targets set by the board. He will also be eligible for $1m in share rights annually.
Verbiest defended the size of the package.
"While Telecom is a smaller company than it was following the Chorus demerger, it retains a significant level of scale, challenge and complexity and the package reflects that," Verbiest said in a statement. Telecom is currently the largest listed company by market capitalisation on the NZX.
Telecom's share price was little-changed on the news - up just half a cent to $2.51, while AIA was down one at $2.50.
- APNZ