Three-layered technology will keep bottles light-proof so milk stays fresh for longer.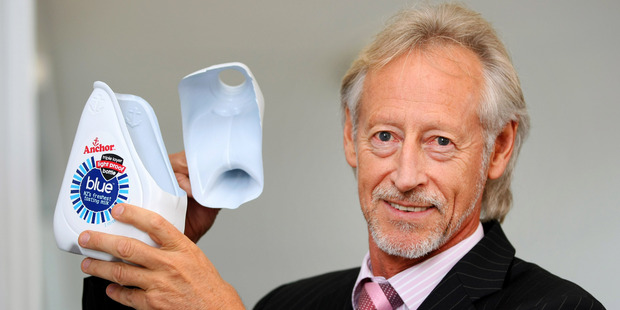 Dairy giant Fonterra says its new bottle will protect milk from light and keep it fresher and tasting better for longer.
The triple-layer bottle technology developed over three years was the first packaging of its kind for fresh milk and cream, and was a "game changer" for the dairy industry, said Fonterra managing director of brands Peter McClure at the launch in Auckland yesterday.
"This is absolutely without a doubt Fonterra's biggest innovation yet."
The 100 per cent light-proof bottle consists of white, black and white layers, made of the same recyclable material as existing plastic bottles.
Taste and freshness were the biggest drivers of consumers' milk choice and research showed many used the "sniff test" to check milk was still fresh before the expiry date.
Research showed about 7 per cent of all fresh milk was thrown out "because people think it smells off", said Fonterra group marketing manager of brands Craig Irwin.
Packaging such as tetra cartons and white see-through bottles allowed between 7 and 25 per cent of light through, he said.
Milk started spoiling as soon as it was exposed to light. The difference could be detected six minutes after it was exposed to sunlight and in two hours in fluorescent light.
As soon as milk was exposed to light it started to break down and produce free radicals, a process which started before it reached consumers' fridges.
Said Mr McClure: "Light damage is a process that can't be reversed and once started does not stop impacting its taste. This triple-layer protection will stop this happening."
Anchor innovations manager Olaf Van Daalen said milk's reaction to light did not happen in the new bottles "because it never sees the light and the milk retains its shelf life". Consumers could expect the product to taste as good at the end of its 15-day shelf life as on day one, he said.
While the new packaging cost more than existing bottles to produce, consumers would not pay more.
Feedback on the product had been positive, with baristas saying the milk was easier to texture and stretch when it was very fresh, and it had a better taste.
Mr McClure said it was hoped the development would encourage Kiwis to drink more milk, as figures showed consumption had dropped.
New Zealanders drink on average 1.8 litres of milk each per week.
TV ads start on Sunday for the light-proof bottles, which will be on sale from April 8.


Fine but environment comes first
Auckland barista Warren Horn makes around 300 coffees a day at ME Cafe and says milk quality is important.
"I'm looking for good textures and [foam] that holds its form once I'm finished. There's freshness but texture of the milk is also important," he said.
He tested the new blue top Anchor milk in the light-proof bottle and found it "fine" to work with.
"It's got a high fat content and if the milk is fresh anyway it's going to be the same."
But he wasn't planning on switching to the product, questioning whether the triple layer of plastic would be bad news for the environment.
"For me straight away that's a no - unless there was a huge difference in quality."
His customers had mixed responses, with most detecting a difference in taste from the Meadowfresh milk he normally uses.
Regular coffee drinker Steve Haddock, 45, preferred Anchor in his coffee but Meadowfresh on its own.
"The texture's different and there's definitely a different taste," he said.
But bus driver Joon Park, 50, didn't enjoy his coffee with the new Anchor, saying it was too strong.
- APNZ